Capt. Roucou releases book on hostage ordeal in Somalia
| 09 September 2011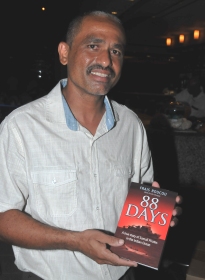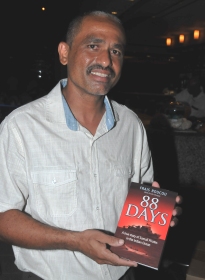 That was in March 2009, and two years later, Capt. Roucou said at the book launch: "No man can come out of this most traumatic experience without having been changed in his general outlook on life and appreciation of it."
After presenting a copy of his book -- titled 88 Days -- to President James Michel after the opening of the international conference on anti-piracy at the Le Meridien Barbarons on Wednesday morning, the ceremony moved to the hotel's main restaurant, in the evening, where most of the delegates were gathered for a reception.
Some of the crew seized on the Indian Ocean Explorer and their families were also present.

Ms Amanda Hunt of the Ministry of Foreign Affairs, MC for the occasion, whipped up interest for the moving ceremony by reading a little account of the boat's capture as revealed in the book:
"Urgent pounding on my cabin door startled me from an uneasy sleep. Captain, Captain. I recognised the voice of Stephen.. ….He sounded quite panicky.-- Captain, they are boarding the ship."
The book reveals that Capt. Roucou ignored an offer of freedom in exchange for information on two other tourist vessels in the vicinity. Being a patriot, he just could not entertain the idea of jeopardising the economy of his beloved country and in doing so, ran the risk of sacrificing his own life.
According to Capt. Roucou, this book tells the story of their journey to hell and back, how they coped with circumstances they found themselves in and perhaps, most important, their relationship with God and his will.
"We had much recourse to prayers while in captivity," he said.
It was also a touching moment when Capt. Roucou said: "Not everybody in Somalia is a pirate and not every pirate particularly wants to be a pirate. There are people in Somalia who are suffering just as much from piracy and from those who make it impossible for the country to have a properly functioning government."
Among the many guests who later bought 88 Days and had it autographed by Capt. Roucou was an African minister.
When asked by Seychelles Nation which country he represents, the gentleman answered: "I am from Somalia. I am the Fisheries Minister. I was so happy just now to hear the captain say that only about 2,000 Somalis are pirates. We have a population of 12 million. So many of us are suffering because of those involved in piracy and terrorism."
The books sold fast, with some guests buying more than one copy. These included a cabinet minister who said he intends to gift them away now that the festive season is approaching.
It was selling for R250 on Wednesday, with all proceeds going to the "Horn of Africa Appeal" launched by the Red Cross, which Nation has learnt will now be extended beyond September to allow more contributions to come in.



A special guest at the book launch was the Minister for Home Affairs, Environment, Transport and Energy, Joel Morgan, who had been appointed by President Michel to head the high-level committee to negotiate the hostages' release. Minister Designate Vincent Meriton was assigned the task of keeping contact with the hostages' families.
President Michel cut short a visit to Japan and flew home, visiting all hostages' families on Easter to comfort and reassure them everything possible was being done to secure their loved ones' freedom.
Mr Morgan related how these were trying times. "One day, the negotiating team felt elated after registering some progress, another day, feeling let down, but such is the unpredictable nature of these negotiations," he said.
Minister Morgan also described how he met Capt. Roucou and his crew in Nairobi after their release. "We all just cried … with joy!"
He also spoke of the ultimate reunion back on Mahé, when President Michel, family members and friends were waiting for them.
"The happiness of the wives and children! No reward for our efforts could be greater than this."
Capt. Roucou acknowledged that many people have helped him in producing the book. These include Culture minister Bernard Shamlaye and Penda Choppy, director of the Creole Institute.

Businessman Mike King Harman helped fund the printing. Air Seychelles flew the copies free of charge.
Capt. Roucou said the book will be on sale at various outlets soon at a slightly cheaper price.