36th annual Inter-School Athletics Championships-Results match organisation level, says Adrien
| 04 July 2012
Physical education and co-curriculum support section director Wilfred Adrien said this to Sports Nation in an interview yesterday.
"The championships went on smoothly and the young athletes performed really well, beating 18 records," added Mr Adrien.
This year's 18-record performance is a significant improvement from last year's six, and Mr Adrien says this is probably the result of more young athletes taking part in local competitions organised by the Seychelles Athletics Federation (SAF).
"Many school children, especially those from secondary schools, form part of local clubs affiliated with the SAF and some schools have their own athletics clubs. It is therefore a bonus for them as they get to compete on a regular basis, thus helping to put them in the right frame of mind and in the best of shape for the championships," continued Mr Adrien.
With so many raw talents coming to the fore during the championships, Sports Nation wanted to know what will happen to them now that the championships are over, especially after many other talents from past championships were not nurtured.
Mr Adrien, who is also the secretary general of the SAF, said while many of the athletes who performed well during the championships form part of the many clubs registered with the SAF and follow training on a regular basis, clubs are being encouraged to recruit more athletes.
"The SAF encourages clubs to recruit young athletes to bring more competition in track and field athletics. SAF members are also being encouraged to work with clubs to guide them on how to manage their teams and the young athletes so that we have a solid base of young talents in the future. We must also take into account that some of the athletes are already practising other sports," said Mr Adrien, adding that young local sportsmen and women expect to gain a lot under the Physical Education and School Sports (PESS) strategy aimed at improving the school sports system.
The Inter-School Athletics Championships is the main event organised to celebrate the country's Independence Day anniversary.
The 18 record breakers are:
80m boys' U8 – Febian Labrosse, Bel Eau primary, 12.93 seconds
Shot put boys' U18 – Dean William, Belonie secondary, 15.19m
4x100 relay girls' U12 – La Digue primary, 56.07 seconds
80m girls' U10 – Zoe Radegonde, La Digue primary, 12.46 seconds
Medley relay girls' U18 – Plaisance secondary, 2:26.88
100m girls' U12 – Francesca Rose, La Digue primary, 13.83 seconds
Shot put girls' open – Marie-Helen Rose, MTC, 10.48m
Medley relay boys' open – SIT, 2:05.28
800m boys' U16 – Ned Azemia, Anse Boileau secondary, 2:07.26
4x60 relay boys' U8 – Anse Boileau primary, 40.48 seconds
400m girls' U18 – Ezra Almaze, Plaisance secondary, 1:01.31
4x100m relay girls' U18 – Plaisance secondary, 51.10 seconds
800m boys' U18 – Kevin Harryba, Anse Royale secondary, 2:04.90
4x100 relay girls' open – Business Studies and Accounting, 52.30 seconds
Medley relay boys' U16 – Anse Boileau secondary, 2:07.4
High jump boys' U14 – Norris Brioche, Praslin secondary, 1.80m
High jump girl's open category – Petra Richard, Visual Arts, 1.48m
Shot put boys' U14 – Jean-Michel Camille, La Digue secondary school, 14.16m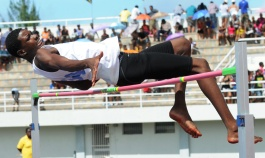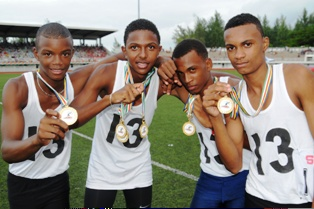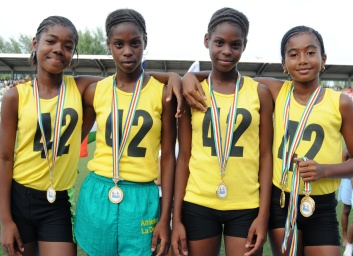 G. G.