Up-Close … with Giovanna Rousseau, NSC's marketing & promotion manager-The epitome of healthy living
| 21 August 2012
"I've never consumed alcohol or smoked. I eat mostly fruit and vegetables and have not had any meat for the past six years," she said with one of those beautiful smiles that endear her to viewers of SBC television.
But above all, there is sports. Giovanna Rousseau's name has been intrinsically linked to sports for the past 40 years or so.
Among her accolades, she led the Seychelles delegation as chef de mission to the Barcelona Olympics in 1992 and as secretary general of the Olympics committee in Atlanta in 1996, as well as at several other international sporting events; was Sportswoman of the Year in 1987 and national champion for squash and badminton for several years.
Interviewed at her National Sports Council (NSC) office at Stad Linite, adorned with cups and trophies, Giovanna was also particularly proud of the "Plaque of Merit" she received in Daegu, South Korea in August last year, for "Meritorious service to the cause of World Athletics".
This award is only made every two years, with each continent nominating their candidate. It goes without saying that in 2011 Giovanna was deemed Africa's most deserving athlete. She received the Plaque from the President of the International Association of Athletics Federation (IAAF), Lamine Diack, who hails from Senegal.
Speaking to Seychelles Nation via e-mail from Daegu, Giovanna said:
"I am very happy Africa has recognised and appreciated my contributions towards the development of athletics, locally, regionally, continentally and internationally over the past 23 years."
She added she is really grateful she was able to receive the award in person from the IAAF President in front of representatives of over 100 countries.
Giovanna is also particularly proud of the fact that she has served as a member of the IAAF woman's committee for 13 years -- from 1995 to 2007.
Giovanna is from a family of three sisters and one brother, who all grew up at Bel Ombre. Her brother is Stephen Rousseau -- at one time head of the Public Utilities Company's (PUC) water division. Like his sister, he was a keen sportsman since his days at Seychelles College, but excelling in tennis, squash and volleyball.
Their mum died of cancer when Giovanna was 18 and this was to have a lasting impression on her life later on.
After completing her training as a teacher, she was back at Secondary Modern School, teaching maths, geography, but especially physical education (PE). This was the basics of sports, though at the time some found it strange that as a girl, she could introduce boys to football.
In 1978-79, Giovanna went to France for a Diplome d'Aide Monitrice d'Education physique et sportive.
Giovanna got back home too late to be part of the squad leaving in August 1979 for the first Indian Ocean Games (IOG), held in Reunion.
She was recruited by the Ministry of Education as assistant curriculum development officer and it was around that time that the government introduced the zoning of sports, rendering the clubs obsolete. This prompted her to launch volleyball teams in her district of Bel Ombre and among the enthusiasts were Nicolas Prea, former MNA of Bel Ombre. Giovanna was coach and manager of both the men's and ladies' teams.
Giovanna represented Seychelles at the 1985 IOG in Mauritius, but medals were then few, except in boxing. She however got acquainted to one Mauritian, Vivian Gungarum, who made a lasting impression on her, for he too had dedicated his life to sports and promoting healthy living.
In 1988, she became chairman of the African Athletics Federation Zone 7, which consists of Djibouti, Mauritius, Madagascar and Reunion. That same year, she also became member of the African Amateur Athletics Confederation, a seat she holds to this day.
In the meantime, Giovanna never neglected squash, her favourite sport. She led a ladies' squad to play in Mauritius and won, also winning a return tournament in Victoria.
She recalls: " The next time, we are sent to Mauritius, I was told that I would have to play a man!".
In Bangkok, she played the ladies' champion number 2 and won.
She also remembers that for the first IOG held in Victoria in 1993, the situation was difficult. "The Stad Linite was just nearing completion. The training was complex. Still Seychelles' medal tally for athletics was good, with Joseph Adam sparkling in the 400m."
Giovanna also recalls that for the Olympic Games she has been involved in, there were fairly strong contingents from our islands. That means four for swimming, including Jean-Paul Adam -- now Minister for Foreign Affairs -- and at least four athletes.
In Barcelona in 1992, Roland Raforme was one bout away from winning a bronze medal, losing to Hungarian in the quarter-final.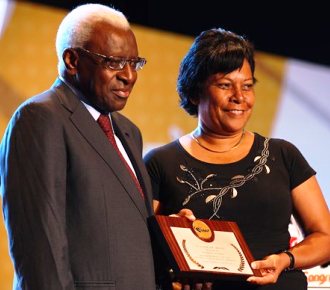 In 1996 in Atlanta, Rival Cadeau also reached the quarter-final, but lost to an Uzbek.
Giovanna has served as secretary of the National Olympic Committee from 1991 to 1995.
What does Giovanna think of last year's IOG in Victoria?
"There were some remarkable results, notably in group sports, where we took nearly all gold medals. The morale was high. There was the home crowd roaring support for their sportsmen and above all, I think God was also on our side."
Giovanna attaches a lot of importance to the spiritual side of life and as an Anglican, she is active in St Luke's Church at Bel Ombre.
Besides her duties at the NSC, she has organised such events as the eco-friendly marathon and welcomed persons of all ages to take part to keep in good shape. The full marathon is 42.195km.

Some years, there have been as many as 1,000 entrants, but most entering for the lesser runs , such as ½ marathon, 10km or even 5km. An average 17 usually complete the full marathon, the eldest to date, being 77.
Giovanna's presence at the recent Anse Aux Pins by-election did not pass unnoticed. She said she became a member of the local observer group Citizens Democracy Watch Seychelles (CDWS), set up since last year. She said she volunteered, wishing to make a contribution to democracy.
Giovanna believes that if united and embracing democratic ideals, Seychelles can constitute an example to the world.