Aldabra is now 'goat-free'
| 17 September 2012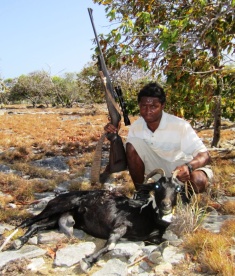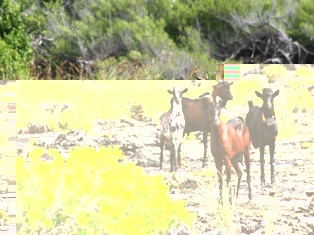 It was on August 3 that ranger Andy Gouffe shot J8 - the last remaining goat - after being successfully tracked by a team of rangers, bringing to an end a decades-long campaign to remove one of the most destructive of introduced species from the fragile atoll's ecosystem.
Guests and all those interested had the chance to learn about the history of the Goat Eradication Project (GEP) on Aldabra during a presentation on Friday by the Seychelles Islands Foundation (SIF), which oversees the atoll.
The presentation, which took place at the Seychelles Fishing Authority's training room at the fishing port, was done by Mark Jean-Baptiste, who has been directly involved with the project.
He explained how and why the goats were eradicated and what the landmark event means for the future of Aldabra.

The audience listening to Mr Jean-Baptiste's presentation on the goat eradication programme on Aldabra
The presentation, which also included a live-link with the rangers over at the atoll, was attended by the SIF chief executive Dr Frauke Fleicher Dogley, the foundation's senior officers and board members.
Background
Considered as one of the most destructive herbivore, goats were introduced to Aldabra prior to 1878. By 1929, "thousands" were reported.
During the Royal Society expedition (1967-1968), goats were reported on all four major islands and lagoon, including Ile Esprit. In 1985, the numbers estimated was around 1300.
The goats were altering species composition and slowing regeneration of natural vegetation, thus, reducing shade cover and forage for giant tortoises.
Early eradication efforts
The concern that goats could potentially threaten the endemic biota of Aldabra prompted a control programme which started in January 1987 with the initial intensive programme followed by opportunistic hunting of goats by SIF staff.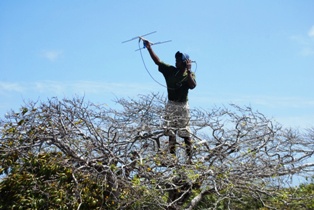 In 1993, the 'Judas goat technique' was introduced and 28 goats were captured and equipped with a radio transmitter.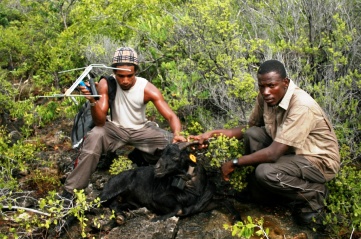 By 1995, goats were eradicated from all islands except Grande Terre, with an estimated 84 left.
Between 2000 and 2005 approximately 250 goats were shot on opportunistic basis and by 2005, the estimated population was around 100 to 200 goats, which were concentrated on eastern Grande Terre.
Project launched in 2007
In 2007, a team comprising three hunters and a veterinarian released six female and four male Judas goats in different areas.
Selected goats were immobilised with radio-equipped tranquiliser darts, before being sterilised, while the females were injected with hormone implants to make them more attractive to other males.
They were then fitted with radio telemetry collars with a battery lifespan of two to three years, before being released.
Monitoring were carried out on a monthly basis by staff on Grande Terre and the Judas goats were located using radio telemetry, while the non-Judas goats sighted were eliminated.
Monitoring also included observation of the Judas goat associations, re-collaring of goats when batteries were dead, as well as searches in other areas for signs of non-Judas goats.
Latest update
Helicopter sweep of eastern Grande Terre in December 2011 located only the Judas goats and during the first quarter of 2012, intensive hunting for non-Judas goats was carried out.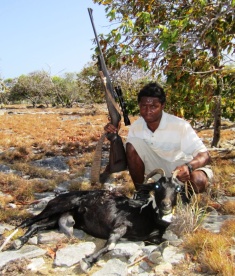 Three Judas goats were killed in 2012 leaving only one to roam around, picking up any remaining non-Judas.
Funding from European Union allowed the SIF to get resources to finalise the project.
The devotion and commitment of the Aldabra staff was instrumental in the follow-up and the success of the eradication project.

Goats killed on Aldabra

Year Goats killed
1987-1988 883 (70% of the population)
1993-1995 882 (goats remained only on Grand Terre)
1997 106
2000-2005 250
2007 202
2008 18
2009 2
2010 2
2011 0
(The accompanying photographs show attempts to eradicate the goats on Aldabra)
Compiled by R.D.