Freed hostages back on home soil-Emotional welcome for Tambara and Songoire
| 06 November 2012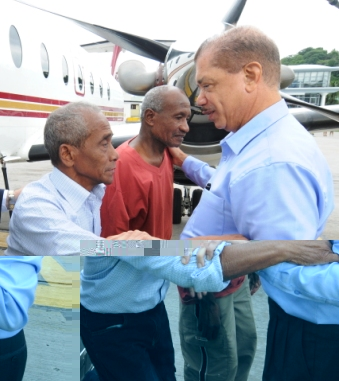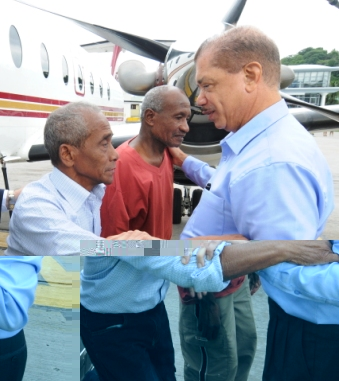 They were received at the airport by President James Michel amid high emotions.
Also among the first to welcome them back to Seychelles soil were Vice-President Danny Faure, Foreign Affairs Minister Jean-Paul Adam; Social Affairs, Community Development and Sports Minister Vincent Meriton and members of the two fishermen's families.
Clapping broke out in the VIP lounge – where they were all waiting – when the twin-engine Islands Development Company's aircraft carrying the two men touched down at the airport at 2.42pm, and got much louder when the fishermen emerged at the door with Home Affairs and Transport Minister Joel Morgan, who was heading the team who negotiated the fishermen's release.
The cheering was however quickly replaced by a sudden breakout of tearful emotions as Mr Michel embraced them when they disembarked. These were clearly tears of joy but also regret at seeing the two men were certainly not in the best of their health because they looked weak and tired.
There was a further outflow of tears as relatives embraced the two fishermen who kept thanking everybody for their roles in their release particularly the population's prayers and Mr Tambara kept saying "prayers are so important, thank you so much".
Although they looked frail, they garnered the strength to tell Mr Michel with firm determination: "We do not know how we can adequately express our thanks to you".
Mr Michel thanked all Seychellois for their prayers which helped us remain a strong nation so as to reach the moment of their liberation.
"For me it is very important we protect our citizens when they get into such situations," he said.
He said thinking of what they and their families have gone through brings forth emotions one cannot explain but we are overjoyed to receive them back on Seychelles soil.
He said at no time did the government relax its efforts to secure the liberation of Messrs Tambara and Songoire.
"Right from the beginning we did all that we needed to do but as I have said many times during interviews and when I visited the families, these pirates are terrible people. We have tried all we could through all possible diplomatic channels, looked at security options and it has taken quite some time as we planned how to bring them back here."
He said he cannot give details because the efforts did not involve only us but also many security and other international agencies "but for security reasons we have to keep the details confidential".
He thanked all local agencies involved in the liberation efforts, naming Mr Morgan in particular who headed the committee which negotiated their liberation and all the team members who have been working tirelessly.
Mr Michel noted Mr Morgan spent time in Nairobi ahead of the liberation to coordinate and ensure everything went well and according to the plan the government had put in place.
He also thanked the "many international organisations who helped secure the release".
Mr Michel – who had just returned from a private visit abroad – expressed his joy at seeing the two men return home after a terrible ordeal in their time of captivity in Somalia.
"We are so overjoyed to see Rolly and Marc come home; the whole nation rejoices with their families. This is a great day for Seychelles! It is another victory for our small country.
These were extremely difficult times not only for Rolly and Marc and their families, but also for the whole nation. We invested tremendous efforts and resources in securing the release of our compatriots.
They have paid off. Marc and Rolly are finally free from the fear of violence and intimidation after one year in captivity in Somalia. "They have experienced much hardship and pain, but thankfully they will have time to rest, and recuperate with their families and enjoy Christmas together. This victory is a cause for celebration for the whole nation, especially as so many of us have been praying for them and working hard for their return," said the President.
Mr Michel who is also the Commander in Chief of the Armed Forces – congratulated the Seychelles Negotiation Team for successfully ensuring the release of Mr Tambara and Mr Songoire noting "the high-risk security operation was effected without incident.
Mr Tambara, aged 70, and Mr Songoire, aged 63, were taken hostage by Somali pirates while they were fishing on October 30, 2011, and this was communicated to the Seychelles authorities November 2, 2011.
The accompanying photographs taken by our photographer Joena Bonnelame highlights some of the intense and emotional moments during yesterday's ceremony to welcome back home Messrs Tambara and Songoire.