Exceptional School staff rewarded for long service-Businessmen make donations
10-July-2004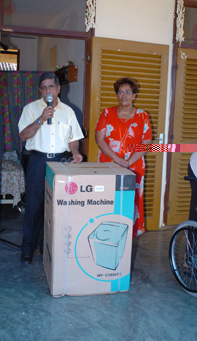 The five teachers -- Sheila Shame-Laye, Greena Cupidon, Dalila Mathiot, Josianne Lesperance and Monica Accouche -- were rewarded for their exceptional tasks during a ceremony on Friday July 9, to mark 10 years since the school was relocated at Roche Caïman.
They received certificates of merit among other prizes from Macsuzy Mondon, the principal secretary for Education in the Ministry of Education and Youth.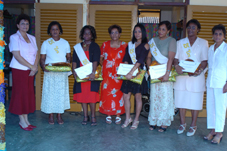 To the surprise of the five teachers, Mr Mohan Chetty, who donated 10 wheelchairs to the school, and Mr Ramani, who also gave a washing machine during Friday's ceremony, also announced that they will be giving the teachers additional prizes.
Mr Chetty has promised to give them return tickets to Mauritius, while Mr Ramani will give each of them a pocket money of R2,000.
The day's celebrations, which coincide with the National Day for the Disabled which falls on July 12, kicked off with the blessing of Father Gerard. Then staff of the school presented a few sketches, poems, songs and dance performances.
In her address, Mrs Mondon paid a special tribute to the long serving teachers for their hard work. She also talked about the challenges the management and staff of the school as well as the Ministry of Education and Youth faced in making the school a more conducive learning environment, where each and every child is cared for, loved and made to feel valued.
Noting that education is of paramount importance for us all, regardless of the challenges we may face, Mrs Mondon said that "it is the ministry's policy to provide equal opportunities and adequate resource to all children regardless of their disabilities."
She noted that for the past 10 years, the ministry had remained consistent in its commitment to provide special education services, such as differentiated academic programmes and specialist services available in mainstream schools.
The contribution of all partners, she said, is highly valued and together "we will continue to ensure that children with special needs derive maximum benefits from the education given to them".
School headteacher Muriel Manes gave a brief history of the school before thanking the sponsors, parents and other partners for their continued support.
Also present at the ceremony were Sarah Rene, patron of the Council for the Disabled; Daniel Savy, secretary of the council; Anglican bishop French Chang-Him, as well as parents of the students, who viewed a photo exhibition of the various activities organised by the school over the last 10 years.