Barclays Bank renews support for Regatta
10-July-2004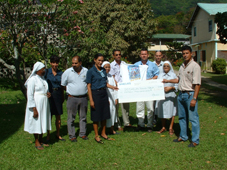 After receiving the cheque from Barclays' community affairs officer Isabelle Hitié, Round Table chairman Andy Moncherry thanked the bank for its long-standing support for the Regatta which dates back to more than 20 years.
The cheque presentation ceremony took place at the Ste Elizabeth's Convent in the presence of Round Table members and Sisters from the convent.
Ms Hitié said that the gesture was in line with the bank's motto of giving back to society some of the profits it makes.
She said that Barclays Bank had been involved with Regatta for a long time now and that it would continue to help the Round Table in its work for worthy causes.
The R15,000 donation will be added to the R10,000 donated recently by Cable & Wireless to pay for the printing of Regatta 2004 T-shirts. Money raised from the sale of T-shirts will go towards the refurbishment of the Ste Elizabeth orphanage.
Regatta T-shirts cost R60 for adults and R40 for children. Jumbo T-shirts will cost R65.
All T-shirts will feature a design by well-known local artist Colbert Nourrice.
According to Mr Moncherry, fund raising has already begun with the sale of tickets for the Regatta lottery. The star prize is a brand new Renault Clio. Among other prizes are a computer, return tickets to Dubai and Mauritius.
Mr Moncherry took the opportunity to thank all sponsors who have until now helped in one way or another.