German tips for tourism winners
10-July-2004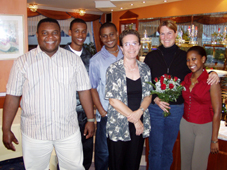 U-First barmen of the year for 2003 and 2004 Terrence Cedras and Jones Annacoura travelled to a work attachment in Bremen, while Seychelles Hospitality and Tourism Training Centre (SHTTC) two time Best Overall Student, Julianna Lalande, and 2003 Service Excellence award winner, Francis Suzette, spent time at the BBS Cuxhaven tourism school.
In addition to their time at the school, Lalande and Suzette were also placed on work attachment in a hotel where they learnt how service styles vary between Seychelles and Germany.
"The basics are the same, the differences are in the equipment they use and the way they use it," said Lalande.
Her comments were echoed by barman Cedras, who said that it was, "very interesting to see their service. It's mostly the same, but they are higher than us. The small things that we don't take into consideration they do."
Ms Lalande said that training at the SHTTC makes the students very aware of the importance of the smaller details necessary in the service industry, but that exposure to bad practices once the students join the industry can erode their attention to detail.
U-First Unit Assistant Director Yvette Antat said that it is this very attention to detail that the unit hopes to promote.
Having completed her studies at the SHTTC Ms Lalande has now started work at the newly refurbished Fisherman's Cove hotel, while Mr Cedras is a bar tender at the Amusement Centre and Pirates Arms, where he says he has already been able to pass on some of the tips he picked up on his German visit.
Following the prize winners trip to Germany the Cuxhaven school will complete the exchange trip by sending two students and two lecturers on a return visit, scheduled to take place in October.