Basketball-Azemia back home, to take the whistle today
10-July-2004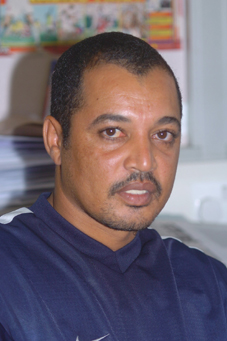 Back home on a three-week vacation after having spent two years in Portugal and Spain, Azemia will join Tony Juliette to officiate the Men division 1A match between PLS Dynamics and MBU Rockers at 3.45 p.m. at Victoria Gymnasium.
The 36-year-old, who left Seychelles in June 2002, told Sports Nation yesterday that he had remained a referee while in Spain and Portugal.
While in Portugal, Azemia got his first assignment during a pre-season tournament at the end of August 2002 .
"The tournament involved eight first division and four division 2A teams. I made a good impression and even refereed the final. Refereeing had become my job in Portugal and I did four or five games weekly. At the end of the 2002-2003 season, I was nominated to attend a course as a preparation to referee in Portugal's professional league. Unfortunately, I could not attend the course because I moved to Spain in September 2003. In Spain, I've only done friendly matches and some tournaments because when I got there, the season was already under way and could not register for league matches. But I hope to register for the new season," said Azemia.
Asked to comment on the level of refereeing in Seychelles and that of Spain and Portugal, Azemia had this to say:
"I have to congratulate Seychellois referees for they are doing a good job, but there is always room for improvement. European players know the rules of the game and don't let referees' mistakes affect their game. During matches, I can feel the respect players have towards referees, something rarely seen in the game here.
"I can also say that the tension generated by PLS Hawks/Premium Cobras matches has helped me in my new adventure in Europe as I have been chosen to officiate difficult matches in Valado dos Frades and Peiche. I was told before going for these matches, that I would encounter a lot of difficulties. But I've never found myself in trouble as I managed to keep the players under control."
Inactive internationally for a year, Azemia, who started refereeing in 1988, is expected to follow a clinic in August upon returning to Spain and then sit for an exam for his international licence.
"My dream is to referee in the Spanish professional league known as ACB. I will make refereeing my profession if I reach this level," said Azemia.
Asked in which division local teams could play in the two countries he has officiated in, Azemia said that "PLS Hawks and Premium Cobras can survive in division 2A in Portugal and in the first division in Spain."
G. G.