Kenyan eye doctors see to surgery camp
12-July-2004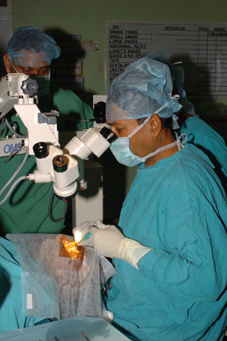 In a venture organised and funded by the Freemasons of East Africa and Seychelles, ophthalmologists Dr Ashok Shah and Dr Fayaz Ahmed Kahn of the Lion's Eye Hospital in Nairobi, Kenya arrived in Seychelles on Thursday July 8, to host a two-day "eye camp" at the hospital for patients suffering from cataracts and other eye-related problems.
Between 50-60 patients were expected to have had their surgeries completed by the end of Saturday's session.
Dr Thomas Bonnelame, the consultant in charge of the eye unit at the Ministry of Health, said that the camp was first discussed in June 2003. Being the hospital's only ophthalmologist at the time, Dr Bonnelame said the unit was inundated with queries from patients needing treatment. A private optometrist had also been brought in to help at the eye clinic twice a week.
After surveying the doctors' procedures at the Nairobi hospital last year, Dr Bonnelame said he came away impressed and moved to facilitate the camp together with the Freemasons.
Though additional doctors have been added since December, Dr Bonnelame said the camp would still be a great help – even if for just six months – to a unit that estimates there are some 300 patients in the surgery queue.
Dr Bonnelame said he hoped to organise similar camps a few months down the line to keep the backlog on a downward trend, but warned that they can be difficult to implement.
"This is not something that can be done overnight," he said, noting that he and other staff have been laying the groundwork – which included clearing the surgery theatres at certain times on Friday and Saturday for the sole use of the camp – since June to ensure as many patients as possible are treated.
According to Dr Shah, each cataract removal surgery for one patient represents a cost of about US $100 on average, including the equipment involved.
The Freemasons of East Africa are organising a series of charitable events to celebrate the group's 100th anniversary this year. Dr Shah said this Seychelles visit followed similar eye camps in Zanzibar, Nairobi and Mombasa as part of the Freemason centennial celebrations.