National Day of the Disabled-Think of what you can do for yourselves, Patron tells disabled
12-July-2004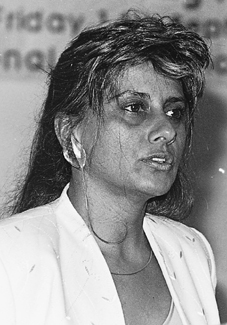 In her message on the occasion of the National Day of the Disabled, being celebrated on Monday July 12, Mrs Rene says that, through their various associations, the disabled can become active advocates of disability issues and loud voices for the continued progress and development in facilities and support for the disabled.
In her message Mrs Rene says that the National Day of the Disabled is a day to remind ourselves the long way we have come in caring for our disabled in the last 25 years, and for celebrating the many accomplishments and strides we have made in this field.
Citing some of the achievements accomplished, Mrs Rene mentions financial benefits for the disabled and their families; the setting up of more facilities for the specialized training needed by the disabled; progress made in the domain of sporting, social and cultural activities, as well as the sensitization of the population towards the disabled and a change in attitude from one of mockery to one of support and understanding.
In her message Mrs Rene also outlines some of the ongoing as well as future projects aimed at creating more facilities and opportunities for the disabled. These include the launching soon of the Cheshire Home Training Project, which is a training programme for the disabled, their families and helpers to train the disabled, however severe, to become as independent as possible in their daily lives; the setting up a shop for disability aids of all kinds for sale, rent or loan; the construction of a fully equipped room for the blind; plans to construct day care centers on Praslin and La Digue, as well as plans to revamp the Rehabilitation Centre with the aim of making it more effective and progressive.
Mrs Rene has also hailed the initiative of the Local Government in setting up the disabled district support group as this will touch all disabled at grassroots level.
The Patron of the disabled has thanked all those who in the past have dedicated much of their time and their sweat for improving the conditions of the disabled and those who today are working closely every day of their lives with the disabled to help them along the way of life.
"But our continued challenge still remains a very daunting and important one. And that is not what else we can do for the disabled but what the disabled can do for themselves," says Mrs Rene.
On her own behalf and that of her family, Mrs Rene wishes all the disabled and their families a happy National Day of the Disabled, reminding them that they are all very special.