Health ministry receives new blood banks
12-July-2004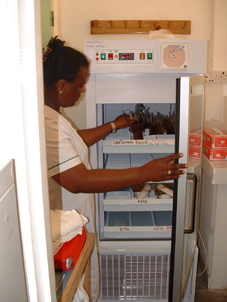 According to David Amedée, acting director for clinical laboratory, the actual amount of blood being donated is not enough to fill up the two new blood banks, which hold 128 units (5.7 litres) each.
Mr Amedée noted that more blood donors are required since the amount of blood required by the MoH per week averages between 70 to 80 units and in most cases the amount collected per week is less than what is used.
"Once collected, blood is stored under temperatures of 6-8 degrees Celsius for about 32 days, but since the amount collected is less than what is needed for everyday use, this means that blood does not get to stay long," said Mr Amedée.
One of the blood banks is located at the Blood Transfusion Centre, where blood is stored for further tests. The other one situated at the Blood Bank centre, used to store blood after it has been cross-matched.
The Blood Transfusion Unit has also received a new portable blood bank, which will be used to store blood collected from outside Victoria Hospital. The new portable one replaces the cold box which, according to Mr Amedée, had outdone its time.
According to Mr Amedée, presently there are five blood banks at Victoria Hospital, among which only three are still operational.
The two new blood banks cost around 5,000 euros and they were fully funded by the MoH.
Noting that blood donation in Seychelles had been more or less on the decline in recent years, Mr Amedée is calling on more people to come forward and offer their blood. He said that the MoH would like more potential donors to donate blood because in doing so, not only can they save lives, but they are also doing something good for themselves.
Mr Amedée has assured members of the public that there is no danger in giving blood, and it is also an opportunity for them to know their health status with regards to HIV and Hepatitis B and C.