Client gets two years free rental, as CWS (Sey) updates database
12-July-2004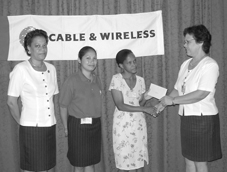 The company has been sending out slips to customers whose N.I.Ns did not feature on its database and the names of those who responded promptly were entered in a draw.
The lucky winner of that draw is Miss Marie-Allise Dine, a resident of Anse Aux Pins, who has been a Cable & Wireless (Sey) client since the 1980s. Miss Dine has won two years free rental worth R1460.00.
According to Ms Jenny Hoyuen Chuen, the manager of Revenue Accounting, the company has found it necessary to update its customer database to avoid confusion that may arise given that many people in Seychelles have common names. Ms Hoyuen Chuen said all residential fixed line customers who have received the slips must submit their N.I.Ns at any of the company's Customer Services Centre.
Expressing her satisfaction with the services offered by Cable & Wireless (Sey) Miss Dine said new developments in telecommunications in Seychelles had boosted her confidence in the company which has the people's interests at heart.
"The company offers user-friendly services that meet our needs and it has a good sense of order," she told Business Nation.