Vu Services comes out with right products for dirty laundry
12-July-2004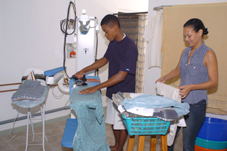 Based in the North Point Commercial Centre at North East Point, the business which is run by an aspiring woman entrepreneur, Ms Charlette Underwood, offers just the right touch and products to deal with dirty laundry.
People no longer need to throw away clothes on which there are stains they cannot remove. The more stubborn the stain, the longer people would want to leave their clothes soaked in the commonly used bleach and the higher is the risk to damage the fabric. While bleach can only remove certain kinds of stains and on certain kinds of fabrics only as it is not advisable to use bleach on coloured materials, Vu Services has products that can be used to treat different kinds of stains.
Stains originating from ink, rust, mud, paint, mould, wine, glue, shoe polish, oils and others are easily and quickly removed by a host of solutions used at Vu Services.
The business has as its motto LVnet, pronounced as the Creole lavnet or complete wash and uses a variety of Italian brand detergents that do for the clothes far more than what people are used to with the more common washing powder, bleach and softener.
"Washing the clothes to remove dirt is one thing and another to provide the necessary treatment using the right products so that they remain wearable for a long time," Ms Underwood told Business Nation.
She added that people have the wrong perception that any kind of washing powder could be used to wash all kinds of clothes.
"There are different kinds of clothes and they are made from different materials and quality-wise the fabrics will only deteriorate if they are all put together in the washing machine to be washed with only one type of washing powder," she explained.
Available at Vu Services are a variety of products that can be used to wash and treat clothes made from silk, cotton, wool, furs or other kinds of materials.
Ms Underwood asked people to be more careful about which kind of detergent they use to wash certain clothes, especially black clothes, as it could also affect the ironing. After washing, she said, some clothes are left with this polished-look.
"Always iron black clothes on the reverse side," she advised, "otherwise you will be walking with the shapes of the iron stamped to your clothes."
The business is targeting mainly domestic laundry, but is also extending the service to corporate businesses in the industrial sector.
Ms Underwood said with the change in people's lifestyle, where more women were choosing to go to work instead of staying at home to do the chores and with more people living in flats, a laundry business would be very convenient.
"We want to make life easier especially for those people who do not have time to do their washing during the week and have to wait until the weekend to wash a load of clothes," she pointed out.
"People take great care about what they wear and we care about the quality of our laundry," Ms Underwood said.
She described the initial public response as very encouraging.
"We have clients who are coming from as far as La Misère," she pointed out.
Among the services offered are washing, dry cleaning and ironing.
The business also provides transport to collect and deliver laundry in bulk.
Ms Underwood, who has lived in Italy for some 25 years, has received training from an Italian-based laundry company in the use of the Aquasi-brand water-based detergents and wash methods for different clothing materials. In the long run she has plans to sell detergents that can be used for the treatment of clothes. The products are biodegradable and friendly on hands and clothes.
Ms Underwood employs a male assistant.