Karate: World Tang Soo Do Championship-Gold for Ravinia, silver for Canaya
12-July-2004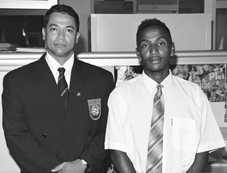 Competing in the lightweight first dan black belt division for the first time, Ravinia, kata gold medallist during the 2000 edition of the championship and winner of three bronze medals in the kata, kata with weapon and sparring (kumite) of the lightweight category of the red belt division in 2002, won a gold medal in the kata with weapon this year in Orlando.
There were 17 competitors in this division.
Ravinia, 23 and who has been working and training in the States since 2002 upon receiving a scholarship, told Sports Nation in a telephone conversation on Sunday July 11, that "I'm happy with my performance and to win a gold medal in the kata with weapon.
The competition was really tough. Unfortunately, I did not get a good placing in the kumite as I lost in the first round," said Ravinia, who noted that he expects to open his own studio in the States soon.

As for coach/competitor Canaya, who is also the head instructor of the local Tang Soo Do karate school, he won a silver medal in the kata with weapon of the heavyweight third dan black belt division out of 14 competitors.
It is to be remembered that Canaya won a gold medal in the kata competition of the heavyweight category in 2000 but was unable to take to the mat in 2002 after sustaining a shoulder injury during training on the eve of the competition.
Canaya, who followed joint-training sessions alongside Ravinia prior to taking part in the championship, is expected back home on July 19.
Like Ravinia, Canaya lost his first fight in the kumite and he has said that "as always the championship was a very high level with more than 2,300 karatekas taking to the mat."
G. G.