National Athletics Championship-Young sprinters display talent and heart with five records
12-July-2004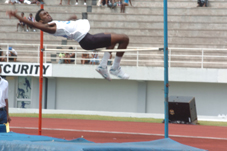 The National Championship, the biggest local competition organised by the Seychelles Amateur Athletics Federation (SAAF), had been one to forget over the past two years, but this time, young athletes, who had been putting in the performances all year long, showed that they can be counted on for future meets.
With young athletes using the two-day championship to shore up a place on the different youth teams for the remaining international competitions this season, it was not surprising to see them pulverise five records, three of which came in the blue-riband (100m) race and the other two in the 200 metres, while Praslinois William Woodcock equalled his youth high jump record of 2 metres. Back to serious sprinting after being hampered by stiff nerves in his legs which prevented him from running well, Praslinois Don Oreddy, who is currently living on Mahe as he is studying at the College of the Arts, got his record in the 200 metres.
In the absence of previous record holder Mervyn Loizeau who is participating in the 10th IAAF World Junior Championship in Grosseto, Italy, Oreddy, 17, was pushed to the finish line of the 200m race by up-and-coming Nelson Renaud.
Oreddy clocked 22.2 seconds to remove one hundredth of a second off Loizeau's old youth and junior best of 22.3 seconds set on June 12 this year.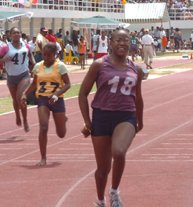 Using senior sprinter Louisianne Françoise as pacesetter, River Stars' Sabrina Laurence (girl – under 16 category) and Samantha Arkatsa (youth – under 18 category) were quick off the blocks and clocked identical times of 12.4 seconds in the 100 metres to rewrite the books in their respective categories.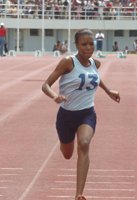 Both Laurence (third) and Arkatsa (second) to winner Françoise with 12.3 seconds, held the previous best of 12.7 seconds.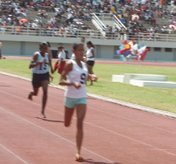 In the same 100-metre race, East Coast's Nathanielle Cherry also performed well, hitting the tape in 12.5 seconds to erase two hundredths of a second off her old colt (under 14) record of 12.7 seconds registered on June 12, 2004.
Natifa Larue, it is to note, also ran inside the old girl record time with a clocking of 12.6 seconds.
In the 200 metres, East Coast's Françoise could not hold off the challenge of both Laurence and Larue. Laurence, 14, crossed the finish line first in 26.0 seconds to pulverise the old girl time of 26.4 seconds she had been sharing with Larue.
Runner-up Larue was second and again ran inside the old best with a time of 26.3 seconds, while senior runner Françoise settled for third position in 26.6 seconds.
Spectators' and athletes' attention then switched to the high jump event as national record holder Eugène Ernesta, Jude Sidonie, Hazeron Etienne, William Woodcock and Jimmy Madeleine decided to show that they can go airborne.
Madeleine was the first to be eliminated with a bar of 1.65m, followed by Etienne with 1.85m. Sidonie, who had competed and won the long jump with a best leap of 6.89m in the morning session Saturday, could only clear 1.95m.
It was left to Woodcock and Ernesta to try and spring a surprise. Praslinois Woodcock, who soared into the record books with a height of 2m during the Track and Field Meet on Saturday June 12 but settled for second place behind Etienne in the recent Inter-Schools Athletics Championship even though they both cleared 1.98m, equalled his youth record of 2m, but failed all three attempts at 2.05m.
Ernesta, whose record stands at 2.20m, won the battle of heights with 2.10m.
Meanwhile, it is to note that France-based heptathlete Céline Laporte is Seychelles' only representative at the African Athletics Championship in Congo.
High jumper Sidonie, javelin thrower Lindy Leveau and 400m runner Evans Marie were also to make the trip but stayed behind at the last minute as the SAAF could not get connecting flights to Congo from either Kenya or South Africa.
G. G.