Training for the Green Police
13-July-2004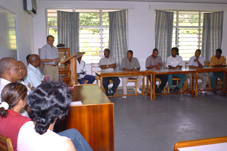 The course is the third in a series of training programmes for the Ministry of Environment and Natural Resources' (MENR) enforcement officers, the most recent having been conducted by the Attorney General in January this year.
Speaking at the start of Monday's training, Environment principal secretary Rolf Payet said that the course would help tackle a number of problems faced by the enforcement officers, namely, insufficient evidence and investigations, high response times, poor preparation of case files, and a failure to identify evidence.
"Court cases take priority over everything else," said PS Payet, adding that the work of the enforcement officers forms part of a chain, of which every link must be strong, if a conviction is to be secured.
The PS said that the primary objective of the ministry is, "to work with the people, but let's learn to be firm, we will have more respect from the public if we are firm."
Speaking ahead of the Environment PS, the Commander of the Academy, Superintendent Jerris Beauchamp described the environment enforcement officers as "partners in enforcement," and said that the police would work alongside them to protect Seychelles' environment.
The course is being coordinated by the MENR's Legal Officer, Jason Jacquelin, who said that the work of the enforcement officers is similar to that of the police when dealing with environmental matters.
The enforcement officers are governed by the Environment Protection Act under which they have power to arrest, search and seize items without warrant if necessary.
Approximately 35 environment staff will take part in the course.