Cycling-Mathieu and PLS Riders win
13-July-2004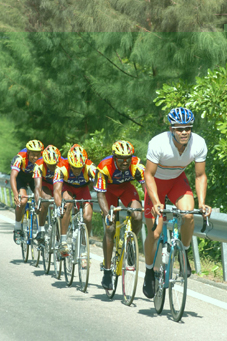 Last Saturday, in the first team time-trial here this year, PLS Riders powered to the finish line of the 34.2-km race in 47 minutes 21.73 seconds.
Top sprinter Hudson Mathieu got teammates Brian Sinon, Francis Louis, Bertrand Lesperance and Roniel Fanny to take turns in setting the pace. With Fanny not able to follow the rhythm and abandoning the race after 17.1 kilometres covered, Mathieu, Louis, Lesperance and Sinon soldiered on to win.
With teams following each other to take the start with a three-minute lapse, PLS Riders entourage celebrated victory even before knowing the times clocked by their opponents who were still on the roads.
Second place went to St Francis with a time of 48 minutes 28.48 seconds. Ricky Rosalie, Eric Van Hollebeke, Andy Rose and Andrew Boniface finished the race for St Francis, while a fifth cyclist – Jim Melanie – had to give in as the pace was too fast.
Vélo Club de Mahé (VCM) fielded two teams – A and B. Their 'A' team, comprising Alex Savy, Nelson Rose, Graham Bristol, Roy Mougal and Marcus Belle, clocked 50 minutes 21.53 seconds for third position.
Belle, it is to note, failed to cross the finish line with his teammates.
VCM 'B' finished fourth in 55 minutes 43.54 seconds.
It is worth noting that teams need to have a minimum of three cyclists and a maximum of five for team time-trials and the team's final time is taken after the third rider crosses the finish line.
On Sunday, Mathieu, who has conceded just one defeat to teamate Bertrand Lesperance in seven individual races since returning home from overseas training in Switzerland, was way off his record of 1 hour 51 minutes 11 seconds in the 75-km circuit race.
Mathieu clocked 1 hour 55 minutes 31 seconds and in a photo-finish, he relegated VCM's Belle and teammate Fanny into second and third places.
Both Belle and Fanny clocked the same time.
Belle, being a junior rider, won his category ahead of PLS Riders' Andy Anthony and fellow VCM rider Alex Savy who were also credited with 1 hour 55 minutes 31 seconds.
Leroy Labiche won the 45-km Cadet race in 1h08:24, France Anacoura was second in 1h08:25 and Raoul Gomme third in 1h08:26.
G. G.