Locally done checks save airline R1m
14-July-2004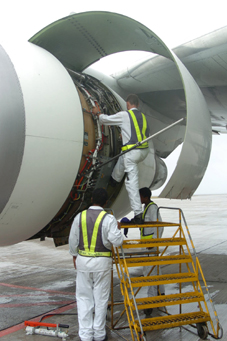 They did the "A" checks on one of the two aircraft on June 29, and completed similar checks on the other one yesterday, this being the first time that such work has ever been done here.
The airline's manager for the international engineering department, Mr Robert Chong-Seng, said this followed discussions between the Directorate of Civil Aviation (DCA), Britannia Airways and Air Seychelles.
"We convinced the authorities that "A" checks could be safely and effectively carried out in Seychelles," he said, adding that DCA had earlier expressed concern that the checks, which should be done after every 500 hours of flight, could have possibly not been completed in time due to bad weather.
He said that normally, such tests require the aircraft to be tested in a hangar, yet there is none in Seychelles that is big enough to take the wide bodied aircraft.
"Instead we have programmed the tests and done them at 450 hours, that is ahead of time, so that even if we had been deterred by bad weather from carrying them out, we would still have had other opportunities," he said.
He explained that the tests, done after about five weeks, involve finding out if all systems are operating correctly according to the various instruments.
He said that the engineers followed the manufacturer's manuals which spell out what steps should be followed, and they had with them an engineer from Britannia Airways who helped verify that the checks were carried out properly.
Three engineers in the cockpit said they were carrying avionics tests which allowed them to monitor, as would the airline crew, to see if the systems were operating properly.
They showed Nation the various standby systems which would come into operation if the primary ones failed.
"There are these three separate auto-pilot systems, for example. The pilot needs only one and if it failed, he would simply engage another, leaving yet one more on standby," Engineer Darrel Woodruff said.