Cargo on distressed ship might pose environmental threat
14-July-2004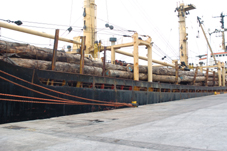 The ship, African Trader, was allegedly cleared by the port authority to enter the commercial port on Sunday after experiencing engine problems on its way to transport the wood to India from Gabon in West Africa.
But environment authorities on a spot check on Tuesday, discovered live insects on the logs, many of which still retained their bark – which is usually removed before export so that the wood can be treated.
The captain of African Trader, which is actually registered in Seychelles with Seychelles Shipping Lines as its agent, apparently did not have any phytosanitary certificates for the wood on board the ship.
Environment officials said the certificates only came yesterday afternoon after they had to be faxed through the shipping agent.
That the vessel, which began preparing to leave the port shortly after 6 p.m. yesterday at the request of environment authorities, might still have introduced a foreign species to Seychelles remains a prevalent concern, however, with or without the certificates.
"If there were still (insects) there, then the treatment was ineffective – it's as simple as that," Antoine-Marie Moustache, the director-general for the Crop Development and Promotion Division in the Ministry of Environment and Natural Resources, said at the port on Tuesday evening.
Ravi Subramaniam of Plant Protection Services said the wood contained various insects, including beetles and spiders. While tests still needed to be carried out to determine whether some of the sampled species already exist in Seychelles, Mr Subramaniam said he was especially concerned since beetles had been responsible for the transmission of the fungi that has affected Takamaka and Sandragon trees in recent years.
Authorities said a similar incident occurred in 2000, which resulted in a major outcry from local officials, especially with a Food and Agriculture Organisation agent in the country on a site visit.
Environment officials, seeing the ship off yesterday evening, were left wondering how such an incident could be repeated.
"There needs to be better coordination at the port," environment principal secretary Rolph Payet said. "They should have alerted the authorities when the boat arrived."
Mr Payet said the incident comes at a strangely inopportune time – environment officials have made a strong push this year to inform the public about the need to protect Seychelles from invasive species.
According to Mr Subramaniam, the maximum fine that can be levied in relation to such an occurrence is R75,000, though officials did not officially disclose who would be held accountable.
A private company – Gill's Pest Control – is expected to fumigate the ship today. The company's head, George Gill, said the operation could take considerable time, as his personnel would have to be cautious not to allow any chemical treatments to escape into the sea.
Mr Gill said the ship will also have to be anchored at a location that would not put any of the islands at further risk. Plant Protection Services staff are expected to be present for the fumigation.