Volleyball: League championship-Under experienced wings for tips to reach the top
14-July-2004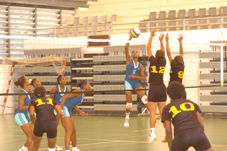 Having both thrived through hard graft to reap the rewards for those long hours of training, Arsu's Bouchereau and Bonne, who rarely concede ground to anyone, want their daughters to get their heads down and work very hard. If that happens, they are likely to become superb players like their mums.
To protect their daughters from the all-too-enticing road to ruin, 37-year-old Bouchereau and 29-year-old Bonne have decided to put them under their wings and don't miss to give them tips to reach the top.
Whilst Bouchereau's daughters – 17-year-old Nathalie and 16-year-old Solana – play for Arsu, Bonne's eldest daughter – Marielle who is 12 years old – plays for the champions' sister team Anse Royale Youth.
Used to having each other as sparring partners during training sessions, the two teams met last Sunday at the Palais des Sports and Arsu came out on top but not after Anse Royale Youth, who looked in business with victory in the third set, dropped their guards in the fourth.
The final score: 3-1 (25-12 25-16 26-28 25-12) after 65 minutes of play.
Coaches Julien Onezime (Anse Royale Youth) and James Camille (Arsu) can now put the derby behind them and prepare for their next encounters on Saturday July 24.
Sixth-placed Anse Royale Youth, who have just one win in seven matches for six points, will play Magpie Robins and Arsu will come face to face with Cascade 'A' in a match many are saying will tilt into coach Camille's team's favour.
Bearing in mind that anything can happen during a match, it is best that volleyball fans come to the Roche Caïman venue on July 24 to witness for themselves who between the two teams will run home victorious and remain unbeaten in the league.
Cascade's budding young talents
Cascade 'A' were also in action last Sunday after having watched Arsu collect their fifth win. Their opponents were Cascade 'B' and it was amazing to see the two teams, who are under the same management and know each other's game as they train together, play hard till the very last point.
Runners-up Cascade 'A', without coach Nichol Lesperance who has not attended some training sessions of late, called on Mike Ah-Kong to fill in as coach and they needed 49 minutes to wrap up the match on a 3-0 (25-20 25-15 25-17) score.
The match also presented budding young talents Joselle Labrosse and Maya Biong with the opportunity to show that Seychelles' women's volleyball has talented parts who can continue the work being done by the seniors if they get the right training.
Left-handed spiker Labrosse, 17, plays for Cascade 'B', while rapid attacker Biong, 16, defends the colours of Cascade 'A', the only women's first division side not to drop a set.
In the other women's first division encounter, St Louis Bombers, coached by Seychelles Volleyball Federation (SVF) chairperson Ronald Wong, came from two sets down to edge Agrics 20-25, 21-25, 25-8 27-25 and 15-7 in a five-setter which lasted 83 minutes.
With the win, their fifth in six matches, Bombers continue to lead the championship standings with 16 points, one more than both Arsu and Cascade 'A' who remain unbeaten and have a match in hand
Racing Club trapped
In the men's first division, Curtain-raiser winners Racing Club find themselves trapped between a wall and a hard place after succumbing to a second defeat in the championship last Saturday.
After claiming the first set 25-22, Racing Club, with Antoine Jeannevol on their bench as advisor, looked like proving that they can beat Premium Spikers a second time after having revealed cracks in their defence during the Curtain-raiser final win, but they had their dream quashed.
Former Racing Club coach Bernrad Denis, who joined Premium Spikers at the start of the season, make a tactical switch in the second set, sending international hard hitter Jean-Paul Ah-Kong in for Allison Alcindor.
Ah-Kong and company helped Premium Spikers to a 3-1 victory by claiming three sets in a row on 27-25, 25-19 and 25-14 scores to bring a smile on the face of veteran libero Perrin Sophola whose father passed away last week.
Coach Denis told Sports Nation that "I do not like it when children disobey or become naughty and today (Saturday), I've shown them that they should respect their elders."
Following the loss, Racing Club, who have played seven times, are in third position with 17 points, one less than leaders Beau Vallon and runners-up Premium Spikers who are yet to lose and have played a game less.
In fact, either Beau Vallon, who walked over Baie Ste Anne Spikers during the weekend, or Premium Spikers will taste defeat for the first time when the two giants meet on Saturday July 24.
There were also victories for United Brothers and RC 2000 and they were both stretched to the limit.
Fourth-placed United Brothers edged fifth-placed Bel Ombre Pirates 3-2 (25-23 25-15 23-25 20-25 15-11) after 79 minutes of play, while sixth-placed RC United needed a minute less to dispatch seven-placed Roots 3-2 (21-25 26-24 25-16 21-25 15-11).
In the women's second division, leaders La Digue are unbeaten at the end of the first round after collecting their ninth win on the trot, beating seventh-placed Husslers 3-0 (25-9 25-19 25-12) after just 38 minutes.
Runners-up United Sisters, who are vying for the sole automatic spot for promotion to the top flight next season with La Digue, were stretched to five sets by BSA Sisters before winning 16-25, 22-25, 26-24, 25-20 and 15-10.
Third-placed SMB collected two victories over the weekend, beating RC 2000 3-2 (22-25 25-19 22-25 25-19 15-7) and Bel Ombre Shadows 3-0 (25-15 25-15 25-22).
G. G.