Development Plan in final stage of discussions
15-July-2004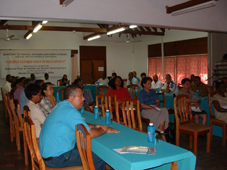 Drawn up by the Social Development Division (SDD) of the Ministry of Social Affairs and Employment, the National Plan of Action on Social Development (NPASD) is the culmination of almost five years of workshops, discussion groups and stakeholder meetings aimed at reinvigorating Seychelles' social development.
The NPASD stems from the World Summit for Social Development, held in Copenhagen in 1995, which the principal secretary for Social Affairs, Marja MacGaw, said had taken a lot of effort to translate into the action plan.
Stressing that the plan was not the brainchild of any single ministry, PS MacGaw said that it covered a wide range of issues.
"If we are to bring further improvements in the quality of life of our people, we must ensure that development reflects all elements of our lives, hence the need to address social, as well as economic, cultural, environmental and technological factors," she said.
PS MacGaw said that while progress may have been made in one sector the effects this has had on other areas has not always been considered.
"Where the proposed plan of action brings a breath of fresh air is that instead of focusing on issues at sectoral level only it now places emphasis on the national level."
And while the NPASD highlights areas of weakness surrounding current development issues, the head of the SDD, Mary–Josée Bonne, said that, "the necessity is to be critical, as it is only through constructive criticism that we can make any changes."
"It is not a negative document, in fact is positive as we want to develop this people centred vision of development, and it is through constructive criticism that we will be able to achieve that goal."
Following any amendments arising from the meeting the NPASD will be handed to the Minister for Social Affairs and Employment, Vincent Meriton, and on to the cabinet of ministers for final approval.
The recommendations of the NPASD are expected to begin to be implemented in 2005.