Fire prevention key for utilities staff
15-July-2004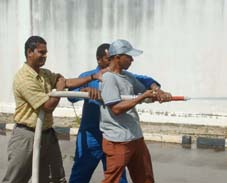 In an effort to eliminate accidents at its workplaces, the Public Utilities Corporation (PUC) has organised a series of fire training sessions for its staff, teaching them good housekeeping procedures designed to minimise the risks of a fire outbreak.
Some 40 staff from the electricity and water and sewage divisions attended the one-day fire training session conducted by Simon Lespoir, the managing director of Fisen Pty Ltd.
Through practical and theoretical sessions, the participants learned more about the concept of fire prevention, different types of fires and methods of dealing with each type, the various fire extinguishers and also the dangers of tackling fire with the wrong type of equipment.
According to PUC safety officer Jonathan Scolastique, the training sessions are essential since PUC workers are always at risk, especially in the electrical station and the chemical store.
The participants were also exposed to real-life situations where they would have to deal with fires before fire fighters arrived at the scene.
Mr Scolastique said that PUC has a mandate to save and protect the lives of its workers.
The company will also be organising First Aid training sessions for its staff on Praslin and La Digue on July 21-23, while staff from the finance division on Mahe will attend a health and safety workshop on Friday.