Environmental health officers responsible for clearing of ships, says port director
15-July-2004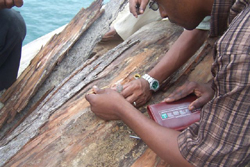 In a letter sent to Nation on Wednesday afternoon, Captain Ernesta said Port and Marine Services has nothing to do with the clearing of ships coming into Port Victoria, and that coordination on such issues is a matter between the environmental health department in the Ministry of Health and the Ministry of Environment and Natural Resources.
"The port authority never clears the ship," he wrote, "this is the responsibility of the Environmental Health. Once the vessel is cleared, then only the port authority brings the vessel alongside."
Captain Ernesta was responding to a report in Wednesday's Nation about a vessel, African Trader, that stopped in Port Victoria Sunday after experiencing engine troubles. Environment and agriculture officials learned on Tuesday that the ship's cargo – large wooden logs from Gabon destined for India – contained insects that could possibly harm Mahe's environment if given a chance to establish on the island.
The ship left the port Tuesday evening. Its cargo was to be treated by a private pest control firm yesterday afternoon in the presence of officials from Plant Protection Services.
The environmental health department declined to comment about the situation on Wednesday.