Sports website gets new domain name
15-July-2004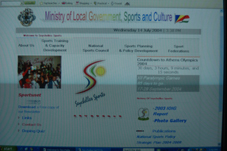 Jean Larue, director general for Sports Planning and Policy Development, has said that the newlook website now has a new domain name which is www.seychellessport.sc.
On the first page of the website are the Seychelles Sports logo, countdowns of major international Games, among other items.
Surfers can download information about different publications like the National Sports Policy, The Strategic Plan 2004-2008, the Sports For All Programme.
The different sub-divisions of the sports division – Sports Training and Capacity Development, the National Sports Council, Sports Federations and Sports Planning and Policy Development – also feature.
Also online are copies of the division's newsletter Sportsnet, a photo gallery and the full report of the Sixth Indian Ocean Islands Games held in Mauritius last year.
It is to note that the sports division first went online in 2001 and in 2003, the website was upgraded a first time.