Tennis-A taste of Wimbledon
15-July-2004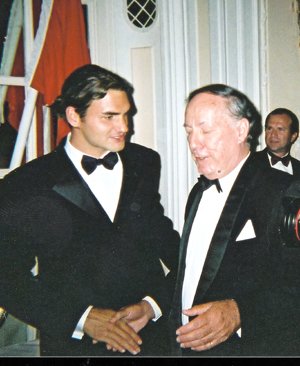 He did expect Roger Federer of Switzerland to retain his Wimbledon title but like the rest of the spectators never thought 17-year old Russian star Maria Sharapova would beat the more experienced Serena Williams.
According to Adam, this is really symbolic of the fact that tennis belongs to the young and that Sharapova is an example for all young tennis players of the world to emulate.
He adds that in this context there is still a greater need for the STA to accelerate its junior development programme in order to produce a world class champion, but warns that a passive interest in the sport is not enough.
"There must be commitment and perseverance well beyond one's school days," Adam was quoted as saying.
Chairman Adam was also a guest at the Wimbledon Ball at the Royal Lancaster and at the Champions' Dinner at the Savoy where he met in person the two champions. The two, he said, might contemplate a holiday to Seychelles sometime.
Adam showed a tinge of sadness and disappointment that his fellow citizens had not been able to share his Wimbledon joy in watching the finals at least on our TV screen as had been customary in the past. He thinks that since Seychelles is a sport-oriented nation, Seychelles Broadcasting Corporation (SBC) should have made an effort to show at least the more important Wimbledon matches on our screen as it did for Roland Garros.