Will kickboxing and bodybuilding survive?
16-July-2004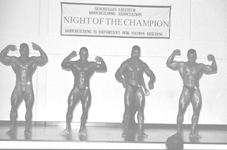 Kickboxing and bodybuilding are two sports going through difficult times and it is very likely that they are to be swallowed up by the rough seas if nobody comes to their rescue.
Seychelles Kickboxing Association chairman Vincent Volcère told Sports Nation recently that some members of the sport's executive committee have decided to call it quit as they feel that they are not getting the support they need from kickboxers and the local sports authority.
"We cannot go on like this. Kickboxing has existed for eight years in Seychelles and until today we don't have the equipment needed and a venue where to train. All efforts to use the boxing gym inside Victoria Gymnasium have been in vain. When we did get the venue, there were no ropes attached to the ring and thus we could not follow our training programme. We even asked for old boxing gloves which local boxers no longer use, but never received them. We also do sparring without head guards," said Volcère.
The SKA chairman added that "with our budget of R10,000, it is difficult for us to buy equipment and organise local competitions. Furthermore, we were expected to host an international competition this year and the sports ministry told us verbally that it would give us an additional R10,000 which was to go towards the organisation, but things dragged and we had to call off the meet. Faced with all those difficulties, many kickboxers got discouraged and felt it best to leave the sport."
Golbert Nicette, who at the start of the year took over as Seychelles Amateur Bodybuilding Association (Sabba) chairman on a temporary basis, has also said that he is no longer willing to serve the sport.
"Things get more complicated day by day. I took over from former chairman Marcel Ally who resigned from the post because I was willing to give a helping hand in the running of the sport I love. But so many things are putting me off. It has got to do with the bodybuilders themselves. Many of them just cannot accept decisions taken by a panel of judges during competitions and make life difficult for everyone. Also, we can't find sponsors to run competitions and the budget of R25,000 we receive from the National Sports Council is just too little. Right now, no one wants to get involved in running the sport and it is very likely that it will cease to exist," said Nicette.
Reached by telephone, Michel Bau, assistant director for sports federations/associations within the National Sports Council, has said that the local sports body "is aware of what has been going on within the kickboxing and bodybuilding associations, but it just cannot do anything."
"If the executive committees of these two sports cannot organise themselves and want their committees dissolved, the NSC can't stop them because they are legally registered with the registrar.
"The bodybuilding association, for example, didn't have the chairman's and auditor's reports ready during the annual general meeting, and until it can provide the NSC with those two documents, any amount from its allocated budget will not be disbursed.
"In the meantime, if any group of people are ready to run these sports, we are willing to listen to what they have to say," explained Mr Bau.
G. G.