MoH urges community members to help keep nation healthy
17-July-2004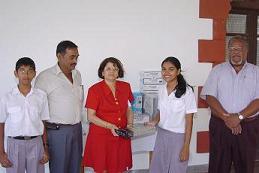 Dr Shobba Hajarnis, technical advisor, made this appeal on Thursday July 15 while accepting a donation of diabetes monitoring equipment from the Shah family during a small ceremony at the Victoria Hospital.
Mr Ravilal Shah, who lived in Seychelles for some 70 years was a diabetic patient for 40 years until his death last year.
According to his son Dilip Shah, the Victoria Hospital and the English River Health Centre were second homes to his father. Since he was known and was well cared for by doctors and nurses who attended to him, his wife decided to donate these medical equipment.
Mr Dilip Shah said that he hoped that the donation, worth £1,600, would help people suffering from diabetes and high blood pressure the same way his father was helped by health workers during his time of sickness.
It was Mr Ravilal's granddaughter Janita Shah, who presented the medical equipment to Dr Shobba.
The medical equipment included BP monitors, stethoscopes and automatic blood pressure monitors.

Dr Shobba, who had words of thanks to the Shah family, said that the equipment are used on a day-to-day basis at the primary health care centres.
She also assured Mr Shah that the equipment will be put to good use.