Tour of Finance offices-President walks through town centre
17-July-2004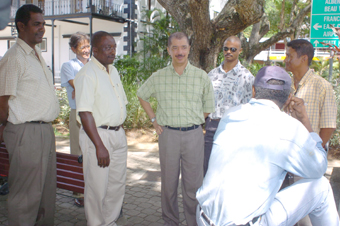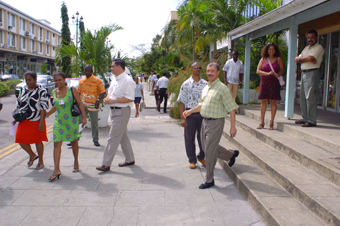 Conducted by the principal secretary of Finance, Mr Francis Chang Leng, who also organised the tour of national organisations linked to his ministry, the presidential visit started at Oceangate House where Mr Michel was introduced to staff of the Pensions Scheme, Import and Price Control, and Funds Management Division which includes the Means Testing Secretariat and the Young Enterprise Scheme.

From Oceangate House the President walked to Kingsgate House for a short tour of the ground floor of the Savings Bank, before crossing the road to the Central Bank building where he had his office as the Minister of Finance before moving to State House.
The media caught up with him as he left the Central Bank on his way to the Development of Seychelles (DBS).

He also spent some time at the Post Office before crossing the road again to go towards State House. On the way he talked briefly to the taxi drivers by Barclays Bank and stopped at the Nouvobanq. Just as he was being offered tea or coffee at the bank he was reminded that he had an appointment in his office at 11:15 am.

He told the media as he was about to pass through the State House gate on his way back to his office that after leaving Oceangate House he felt he would enjoy the walk to the other buildings. He said it was a pleasure meeting the staff of the organisations he visited and talking to people he met on the street.

President Michel is the Minister for Finance, a post he has held since 1989.