Chief executive officers tackle openness issue
20-July-2004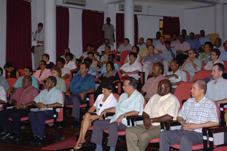 The chief executive officers of ministries and parastatals were joined by private sector and Ngo representatives at the half-day meeting, held at the National Institute of Education (NIE), where their discussions were listened to by members of the Ethics Working Group in the presence of President James Michel, Vice-President Joseph Belmont and other government ministers.
Mandated by the Cabinet, the Ethics Working Group is intended to develop a mechanism for the declaration of assets and interests by public servants and officers, compatible with international conventions signed by Seychelles.
The group is made up of Auditor General Marc Benstrong, Attorney General Anthony Fernando, Ombudsman Gustave Dodin, Ministry of Administration and Manpower Development (MAMD) principal secretary Mohammed Afif, Secretary to the Cabinet Bernard Shamlaye and MAMD Public Service Development Division's Daniella Larue.
Before the start of discussions, Minister Noellie Alexander of the MAMD read out her Public Service Day message in which she highlighted the need to raise standards in the public sector.
Introducing Monday's discussions, Ms Larue said that it is necessary to first understand the challenges in coming up with a policy that will work for Seychelles.
Ms Larue put forward the questions of what should be declared, who should have access to the information, how wide should it be, should children and spouses be included, to whom should any declaration be made and how will it be enforced.
The CEOs picked up on many of the comments raised by Ms Larue and expressed their fear that the honest majority would find no problem in abiding by declaration orders, but that the crooked few who need to be investigated are the most likely to find a way to cheat the system.
Amongst the points raised by the CEOs were; at what level of seniority would officials be obliged to declare assets, whether legislation would be retrospective, how could it be enforced on family members of public servants and what sort of structure would have to be put in place to carry out investigations.
The work of the Ethics Working Group is expected to be completed over the coming months and will bring Seychelles in line with the UN convention against corruption, launched last December and signed by Seychelles in February.
The declaration of assets issue has taken on extra prominence following President Michel's National Day address in which he said, "We shall be introducing a mechanism which will provide for the declaration of assets by all senior government officials."