Public Service Day-Social Affairs & Employment ministry promotes vision statement
20-July-2004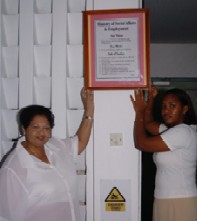 A copy of the vision statement which includes the ministry's motto and code of conduct was placed in the lobby of the Unity House building in Victoria by Ivy Orr, director general administration planning and finance division, in a short ceremony held Monday July 19.
This activity, organised to mark Public Service Day celebrated on that day, was attended by the Minister for Social Affairs and Employment Vincent Meriton, principal secretary for Employment Marja MacGaw, principal secretary for Social Affairs Antoinette Alexis and other officials from the ministry.
According to Patsy Canaya, the ministry's public relations officer, the initiative by the MSAE dated since January and the statement will later be placed in all its offices.
She added that the ministry's motto which reads "Serving with efficiency, equity and compassion" also reflects positive attitudes which public servants should abide by in delivering an efficient service.