Pension scheme gets healthy debate
20-July-2004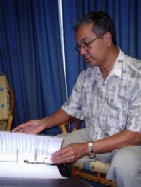 He confirmed that the consultations with members of the public, which began on July 1, will from Saturday July 24 begin in the districts, starting with Anse Royale.
Consultations with specialised groups, he said, will however continue, and today ( Tuesday) the Members of the National Assembly will make their input.
"We have been noting whatever the members of the public have to say," he said, as he perused contents of an updated file carrying proceedings of the various meetings.
He said that so far there have been no major deviations from the main proposals.
"People mainly want clarification, although some have proposed modifications to what has already been suggested," he said, adding that at the rate the consultations are going, public debate on the scheme is likely to be concluded by the end of November, when the summaries thereof will be presented to government.
He said that there have so far been no difficulties, but did not want to give too many details of what various participants of consultations already held have said, "so as not to prejudice the discussions."
He nevertheless said that many participants agreed with proposals for early retirement, and welcomed the periodic payments proposed, for example during financial difficulties or illnesses in the family.
Mr Confait said the venues and dates of proposed meetings will continue to be published in Seychelles Nation.
The consultations are aimed at revising the actual scheme and are in line with the June 18 announcement by President James A. Michel that a new scheme will be set up after meetings with all stakeholders.