Karate: World Tang Soo Do Championship-I'm happy and proud to win a silver medal – Canaya
20-July-2004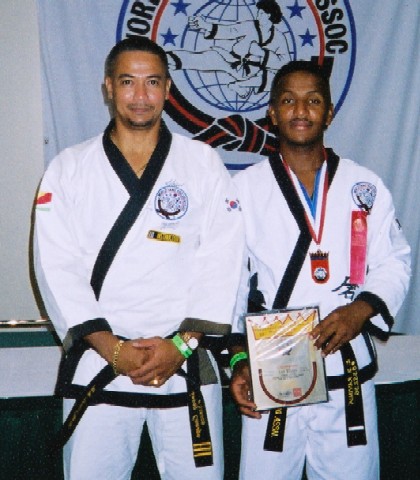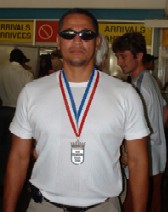 Seychelles won two medals – a gold and a silver – at the biennial championship.
The gold medallist was Elvis Ravinia in the kata with weapon of the lightweight first dan black belt division – a category he was competing in for the first time.
Canaya won a silver medal in the kata of the heavyweight third dan black belt division in Orlando.
Coach/competitor Canaya, who is also the head instructor of the local Tang Soo Do karate school, competed against 14 competitors.
"I'm happy and proud to have won a silver medal. The competition was of a very high level as always. Elvis and I had enough time to train for the championship and even though we participated in all three events – kata, kata with weapon and kumite – we concentrated our efforts in events we felt we could perform better.
With the smallest delegation at the championship, Seychelles won two medals, while countries with bigger delegations returned home empty-handed," 40-year-old Canaya told Sports Nation yesterday morning.
It is to note that Canaya won a gold medal in the kata competition of the heavyweight category in 2000 but did not compete in 2002 after sustaining a shoulder injury during training on the eve of the competition.
As for kata with weapon gold medallist Ravinia, Canaya said that he was happy with his improvement.
"Before the start of the championship, Elvis had trouble concentrating because his mother had been involved in an accident. I asked him to concentrate on what he had to do and he made it. Next for Elvis is to open his own studio in Alabama in January 2005. He has decided that I stay as his instuctor for the first two years upon the opening of his studio," said Canaya.
It is worth noting that Ravinia, 23 and who has been working and training in the States since 2002 upon receiving a scholarship, was a kata gold medallist during the 2000 edition of the championship and won three bronze medals in the kata, kata with weapon and sparring (kumite) of the lightweight category of the red belt division in 2002.
There were 17 competitors in the lightweight first dan black belt division.