Basketball: League championship-Main man Sinon puts Rockers on a roll
20-July-2004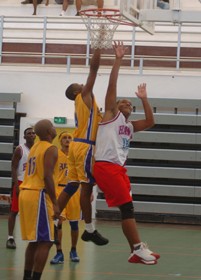 Rockers, who avenged their first round heart-breaking 47-48 loss to PLS Dynamics the weekend before with a 58-51 victory, stretched their winning run to two matches – their longest in the two-round championship – with a narrow 73-72 victory over Angels.
International playmaker Nigel Sinon proved once more that he is Rockers' main man, finishing with 25 points as his team took revenge over Angels who had beaten them 59-53 in the first round.
The win proves that the Rockers, with Elvis Idrice, D. Hoareau and Alvin Marie playing tough defence, can now grind victories from the jaws of defeat, compared to the first round when they lost tight matches.
Angels' Steven Servina finished with a game-high 30 points, including four 3-pointers – three of which came in the fourth quarter as he netted 13 of his team's 20 points.
With the win, their third in 10 matches, the Rockers are now in sixth position on 13 points, while Angels, who have lost Kenyan centre David Mugoye to PLS Hawks and small forward Garry Duprès to Premium Cobras, are in seventh place with 12 points after having played nine times.
Premium Cobras 65 ... PLS Dynamics 36
At the top, Premium Cobras, who steamrollered LMS Jazz 128-46 in their last match, held PLS Dynamics to a possible all-time record lows of five points in the fourth quarter and a total of 36 in the Men division 1A following a 65-36 victory.
Seychelles centre James Beier, playing as a small forward, showed that he can be dangerous from long range with four 3-pointers to lead all scores with 20 points.
International centre Lenny 'Bad' Aglaé added 19 as Premium Cobras extended their unbeaten run to 10 matches for a maximum 20 points.
The defeat is Dynamics' second in a row and they are fourth in the standings with 13 points after nine matches.
PLS Hawks 108 ... Beau Vallon Heat 66
Barry Baron, who lost the number five (centre) position to newcomer Mugoye last Sunday, had a point to prove to coach Clifford Joubert as he finished with 22 points in PLS Hawks' 108-66 win over Beau Vallon Heat.
Ugandan Stephen Omony, Hawks' captain-of-the-day as veteran Jim Domingue started the match on the substitutes bench, added 21, while starters Heribert Derjacques got 16, Mugoye 14 and Thomas Collie 13.
With a match in hand on Premium Cobras, who beat them in the first round fixture, PLS Hawks have made the runners-up berth theirs with 17 points from nine matches.
The Heat, with sharp shooter Danny Bertin finishing with a paltry five points and just one 3-pointer, are fifth on the table with 13 points after 10 games played.
Veteran Guy Hall picked up the slack for the Heat with a game-high 24 points, including three 3-pointers.
Baya 66 ... LMS Jazz 49
Baya are proving to be the country's third best Men division 1A team as they inflicted an eighth defeat on top flight rookies LMS Jazz, winning 66-49.
With an even record of five wins and five defeats in 10 games, third-placed Baya, coached by Michel Malbrook, have evened the series against Jazz who edged them 75-73 in the first round.
Michael Cupidon led Baya with 23 points while captain Dave Roseline and Luciano Moumou finished with 11 apiece.
As for bottom team Jazz, they were again led in scoring by Neddy 'Jabbar' Fanchette with 16 points.
Anse Etoile 75 ... Mont Fleuri 47
In the women's League, Anse Etoile Stars continue to rule after overcoming the challenge of Mont Fleuri on a 75-47 score.
87-32 winners over Juniors in their previous match, the Stars, aiming to defend their League title, expected a much tougher challenge from Mont Fleuri as they brought their record to seven wins and one defeat in eight games.
Seychelles centre Simone Malbrook led leaders Stars in scoring with 28 points, with Lindy Mathiot and Geneviève Beaudoin adding 14 and 13 apiece.
Bernadette Songor had the hot hands for Mont Fleuri with 12 points.
After seven matches, Bel Air, who beat Cadettes 86-37 in a mid-week fixture, are second with 13 points, the same total as Mont Fleuri who have played a match more.
Meanwhile, SMB Razorback returned to winning ways with an 81-33 defeat of Anse Etoile in the Men division 1B and Ex-Champs beat La Misère Youth 81-51.