Football : Sunkiss'd division one-SMB condemn Plaisance to fourth consecutive defeat
20-July-2004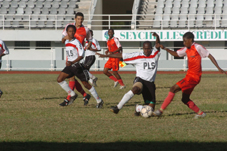 With the win, SMB move to fifth position in the standings with seven points after two wins, a draw and two defeats in five matches. As for winless Plaisance, they are carrying the weight of the table.
SMB, who recruited former St Louis striker Che Dorasamy at the start of the 2004 league campaign, opened the scoring in the 18th minute when they were awarded a penalty.
Tireless striker Joseph Marcelin, SMB's top scorer in the second division in 2003 – the same year they were crowned champions – went on a good run inside Plaisance's penalty area only for defender Isaac Bacco to bring him down.
Referee Jourdan Benstrong did not hesitate to award SMB a penalty and at the same time book the young Plaisance defender. Brian Dorby, formerly with Anse Réunion, stepped up to wrong-foot Plaisance's custodian Randolph Didon.
The early goal somehow failed to inspire SMB to go forward in search of more goals as they took their feet off the pedal and retreated in defence, leaving the first half to end on a 1-0 score.
In the second period, SMB, enjoying more possession, camped inside Plaisance's half of the field and their first warning came through substitute Colin Laporte who shot into goalie Didon's side-netting after some brilliant individual work in the 46th minute.
Two minutes later, SMB, under the guidance of coach Roger Labonté, went two goals up after Dorasamy made the most of a goalkeeper Didon error to head the ball into an empty net for a 2-0 lead.
Plaisance's captain James Bill reduced the arrears in the 53rd minute, tucking home a Dave Marengo outside-of–the-boot right wing cross.
Sensing danger, SMB played a strict man-to-man marking, thus denying Plaisance possession.
In the 56th minute, SMB's Laporte pounced on a loose ball from midfield, used his pace to get past a number of defenders before rounding goalie Didon to give his team back their two-goal cushion.
In the 63rd minute goalie Didon, who made some top drawer saves to minimise the damage, parried into corner a Terry Chang-Take-Hue fierce free-kick taken on the edge of the penalty area.
Dorasamy, who gave a good account of himself on Sunday, got the ball in Plaisance's net a fourth time in the 74th minute but his effort was ruled out for offside.
Coach Labonté was happy with the win but insists that his players play a more fast-flowing football if they are to remain in the top flight next season.
"We played quite well today (Sunday) but there is still room for improvement. We have a lot of work to do if we are to preserve our first division status next year," he said.
C. J.