President tours Independence House
21-July-2004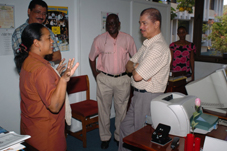 As the new President of the Republic, Mr Michel has started a familiarisation tour of offices.
Independence House is the biggest complex of government offices.
During yesterday's tour the President visited the Brigade Topographique, and was also introduced to the staff of the Ministry of Land Use and Habitat (MLUH), Ministry of Tourism and Transport, and the Internal Affairs Department, that are based in the complex.
Yesterday's tour, held after Monday's commemoration of Public Service Day, was an occasion for the President and the civil servants in Independence House to exchange greetings, and for the Head of State to know more about the working environment there.
Vice-President Joseph Belmont of Tourism and Transport and Minister Joel Morgan of MLUH conducted the tour of their respective ministries.