Turtle slaughter
21-July-2004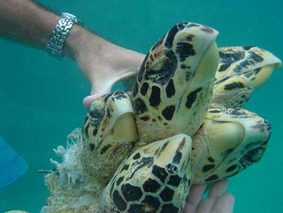 The severed skulls, flippers and carapaces of the turtles were spotted by the tourists who immediately informed the Ministry of Environment and Natural Resources (MENR) on the Greenline (722111).
MENR passed on the information to the Marine Parks Authority, but, due to a mixed message, the MPA rangers searched the Anse Major beach, not the sea where the concerned tourists had left the remains.
A search by volunteers from the Marine Conservation Society Seychelles (MCSS), on Sunday morning, however, recovered a number of the body parts, still in the water.
MCSS Chair David Rowatt described the killings as unusual as Hawksbill turtles are usually poached for their shells, not their flesh, which is toxic due to their diet of sponges and other reef organisms.
In this instance the carapaces had been discarded, raising suspicions that the meat will be passed off as Green turtle meat for sale.
Though strictly illegal the sale of turtle meat is thought to reach between R50–R80 per kilo.
The Hawksbill is classed as critically endangered by all major international conservation bodies, including the IUCN (International Union Conservation Network) and CITES (Convention on the International Trade in Endangered Species), and enjoys strict protection under Seychelles environmental legislation.
The Environment Ministry principal secretary, Rolf Payet, confirmed that an investigation by MENR staff has already been initiated and that the police will be brought in at the appropriate time.
The incident comes only two months after a warning was sent to poachers, with the sentencing of six men to two years in prison for turtle poaching offences.