Three new VIP cars a gift of Seoul
22-July-2004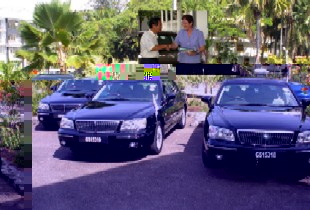 The three executive-style Hyundai XG300s pulled up to the ministry's headquarters in Mont Fleuri on Tuesday afternoon for a high-level handing over ceremony that included Foreign Affairs Minister Jeremie Bonnelame and Korean Ambassador Lee Suk Jo.
Ambassador Lee, in Seychelles on a five-day visit, spoke after the ceremony of continued friendship between Seychelles and Korea. He said the total value of the donation is estimated at around US $75,000, or $25,000 per vehicle, excluding any taxes or duties that would otherwise normally be applied.
According to the ambassador, the donation was realised after a high-level visit of government officials from Korea last year. Ambassador Lee said he planned to visit some of the other islands before leaving on Thursday July 22
Jeannette D'Offay, acting principal secretary in the absence of Sylvestre Radegonde who is in Uganda, said the donation was a friendly and timely gesture of support, and that the three cars will join the fleet of protocol cars used by the ministry.
"I wish to renew our thanks for such assistance, which reflects a fair perception of our needs and constraints, as well as a genuine and very positive interest in our development," Ms D'Offay said.
"I hope that in the future we will be able to widen our cooperation, in particular in the field of fisheries as I believe our two countries could take more and better advantage of our respective resources and experience," she added.
Acting chief of protocol Randolph Felix said the cars would greatly benefit the ministry's fleet, as their current vehicles are used extensively and tend to age more quickly than most cars.