Honda Jazz gets top marks in UK survey
22-July-2004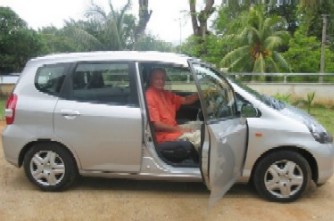 37,000 readers of Auto Express magazine not only voted the Jazz best car overall (and the only one to achieve a score better than 90%), but also placed the baby Honda top for practicality, build quality, reliability and running costs.
The Driver Power Survey is the biggest and most comprehensive UK reliability and satisfaction survey, the only one written exclusively by British car owners. Some 37,000 readers participated, making the 2004 Driver Power report the biggest to date.
The radical super-mini offers MPV-style practicality, a massive interior and one of the most economical petrol engines in the world.
It offers customers more living room and versatility than is normally associated with cars this class.
Auto Express Editor David Johns says: "The multi-award winning Jazz beat all-comers for practicality, build quality, reliability and running costs and achieved the highest overall satisfaction rating in the survey".

More than 98% of respondents said that the Jazz had lived up to their expectations.
Honda Jazz is powered by 1.2-litre and 1.4-litre petrol units. Featuring Honda's latest i-DSI (Dual and Sequential Ignition) technology, both use two spark plugs per cylinder to improve combustion, performance and fuel consumption.

A five-speed manual gearbox is standard, but a CVT (Continuous Variable Transmission) automatic is also offered as an option. Developed specially for the Jazz, the CVT gives even greater fuel economy than the manual car. That means the Jazz is not just top of its class, but one of the most economical petrol-powered cars ever built.

With rivals making safety a top priority, Honda has also worked hard to ensure the Jazz performs well in crash tests, and anti-lock brake system (ABS) with brake assist is fitted as standard.
EHW (Seychelles) Ltd, the local Honda dealer, says the Jazz is creating a lot of interest among many car hire operators and individuals in Seychelles.
According to the Business Development Manager, Stephen Faure, "Honda has a tradition and reputation for building strong, reliable and robust cars. The Jazz presents no difficulty climbing our steep roads, making it among the most likeable small cars on the Seychelles market."
A sentiment echoed by numerous owners of the baby Honda. Local businessman, Mr Gian Carlo Lauro, believes opting for the Jazz is the wisest choice he has made and describes it as the best car in its category:
"It has a lot of power, offers much more space and comfort than I thought, the driving position is perfect and at regular speed, fuel consumption is minimal. The Jazz is very stable on the road and my daughter loves the music system".
For the record, and while Seychelles is very keen about environmental protection, the Jazz emits just 134 grams of carbon dioxide per kilometer - a figure that makes it one of the cleanest petrol engines in the world.
For more details about the Jazz and other Honda car models, contact EHW (Seychelles) Ltd on 280000 or email This email address is being protected from spambots. You need JavaScript enabled to view it.