Athens Olympic Games-Last-minute invitation for Scheer
22-July-2004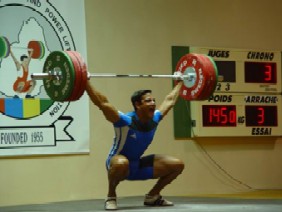 This good news comes 11 days after the Seychelles Weightlifting Association was told that none of its weightlifters had been invited to the XXVIII Olympiad from August 13 to 29.
In a letter addressed to the Seychelles National Olympic Committee (Snoc) Wednesday July 21 and dated July 20, 2004, it is written:
"Some weeks ago, the tripartite commission allocated the invitation places in weightlifting for the Athens Olympic Games. At that time, we were not in a position to allocate a place to any of your athletes, however, Richard Scheer was the first reserve for an invitation in the case that any other NOC (National Olympic Committee) declined its place.
"Recently, one of the athletes who was awarded a tripartite commission place declined the invitation which leaves the place vacant. We are pleased to offer this available invitation to Mr Scheer (...)"
Scheer, who competes in the 85-kg division, is thus the third Seychellois after Sportsman of the Year Steven Baccus (in 1996 in Atlanta, USA) and Sophia Vandagne (in 2000 in Sydney, Australia) to compete at the Olympics.
Since Scheer could not be reached for comments, Sports Nation talked to coach William Dixie Wednesday and he said:
"It's good that weightlifting has received an invitation for the Olympics, but it has come very late. I'm not sure in what kind of physical condition Richard is in right now and what kind of training he is following. I'll have to get in contact with him as soon as possible to work on something."
It is also worth noting that Seychellois lifters, who participated in just one of the Olympic qualifiers – the African Weightlifting Championship in Tunis, Tunisia, were unable to make the qualification to Athens.
In Tunis, local lifters wanted to qualify two of their peers for Athens by taking one of the top-three positions in the final men's and women's teams classifications.
Unfortunately, Seychelles, represented by five lifters – three women and two men – could not garner enough points for a top-three finish, thus missing out on automatic qualification for the Games.
Hoping that one of its lifters would receive an invitation to compete in Athens, IWF president Dr Tamás Aján wrote to the local association saying that the international body could not satisfy the request for local lifters because "over 80 requests were submitted for the tripartite commission for invitations of which a small fraction could be satisfied due to the limited number of such spots."
Scheer is also the third Seychellois athlete to be invited to compete in Athens. Canoeist Tony Lespoir and judoka Francis Labrosse (60-kg division) are the other two invitees.

The country's two athletes to earn qualification for the Games are boxer Kitson Julie (64-kg division) and Laser sailor Allan Julie.
G. G.