1,000 new houses on reclaimedisland soon
23-July-2004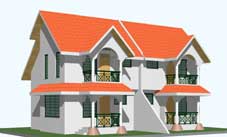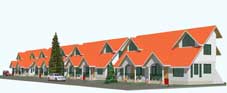 This will be the first phase of a project that will eventually see the construction of 2,000 houses on the 92-hectare reclaimed island, previously known as Zone 15, off Ma Constance.
The Minister for Land Use and Habitat, Mr Joel Morgan, announced this on Wednesday July 21, saying that 10 different models will be used for the houses.
"Seychelles Government is very proud to announce the 2,000-house project for the people of Seychelles,"
"It is one project where we have spent a lot of energy, put in a lot of effort and where there has been a lot of planning and preparation," Minister Morgan said, adding that the total cost of the entire housing project will be US$44 million.
He said he was happy to announce that the government is able to present to its people "such a beautiful and nicely designed project that will make the country and the inhabitants of that new town very proud."
He said that the houses will be built with a clustered approach that will group a number of houses together in small communities.
He said that the project will go a long way towards assisting the families that have been waiting for houses and that the project will be financed in its entirety by the government.
"We do not foresee having to take any major loans for this project," he said, adding that government has already made a down payment of US$2.1 million and will pay a monthly equivalent of US$400,000 to meet the balance.
"The government will finance these payments from its inflows that it receives from the foreign exchange coming into the country," he said, adding that there will be a capital of US$35 million for the infrastructure," he said.
The minister agreed that the project will add some pressure to government when paying on a monthly basis for the project, but he said this is the opportunity cost that will have to be paid, as is the case with all projects.
"The government asked itself the question: 'Do we invest in our people's housing which is in great demand and great need by certain sectors of the population or do we do something else with this money?'
"Government took a conscious decision at this point in time and said: 'Look, we have a backlog of people who need houses with people in various areas in dire need of housing. If we do not catch up with the situation, we might end up finding a housing situation in Seychelles where the standard of living of people in the country will drop drastically. You would find situations where people have nowhere to stay. They would become homeless, and we do not want such a situation as you find in many countries of Africa and parts of Asia to arise," the minister said.
He said that hand in hand with Seychelles' revised economic programme that President James A. Michel is putting in place, government has made a conscious decision to make the standard of living, especially the standard of housing of Seychellois, go hand in hand with that.
Minister Morgan said that a large proportion of the cost will in fact be in Seychelles Rupees as many of the services and materials will be obtained locally.
For the housing project, only US$17.6 will actually be in foreign exchange.
The director for housing development, Mr Ezekiel Ojo, said that houses will be made of precast steel reinforced slabs which will interlock, providing strong walls that will resist salinity and high humidity, while permitting rapid construction of the houses.
He said that the walls will be solid and totally devoid of foam, and therefore very different from the two units that were a few years erected in monolithic in-situ style at Anse de Genets.
He said they are also economical to construct in comparison with the conventional ones which do not measure up in strength to the precast concrete ones.
In a presentation to the media the principal architect in the Ministry of Land Use and Habitat, Mr Zoran Vuksanovic, said that 690 units will be two- and three-bedroom town houses, 740 will be three-bedroom semi-detached houses and 570 will be two- and three-bedroom apartments.