Charity focus on training for disabled
23-July-2004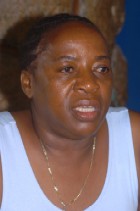 Ms Penny Mharapara, the Regional Officer of the Leonard Cheshire International charity, conducted a requirement assessment on Mahé, Praslin and La Digue, ahead of the start of a proposed "train the trainers" programme.
"I'm very thankful for what the people of Seychelles have done for the disabled, but I think that we need to take the step of actually training families and local communities so that they have the skills to care for the disabled. Even the care workers, if they go out without training then they are a waste of money," said Ms Mharapara, speaking to journalists Thursday July 22 at the Lungos headquarters.
Leonard Cheshire International is a global charity with some 280 centres around the world which focus on providing choices and opportunities to the disabled to improve their quality of life.
Under the train the trainers scheme staff from a range of organisations, notably from government and district bodies, will be given the skills to train disabled people and their carers in a variety of "life skills."
"Parents of disabled children and people caring for disabled people are always so busy looking after them, so to give them that break for one or two weeks through providing respite care really does help. The disabled in the respite care meet other disabled, learn from them and realise that they are not alone," said Ms Mharapara.
The training programme is likely to begin in late October and the Leonard Cheshire representative said that a swift start would help to capitalise on the momentum built up by her visit.
Ms Mharapara said that it is difficult to say how much the programme will cost, but that it should not be too expensive as each organisation involved will send their own trainees.
The visit by Ms Mharapara, who serves ten southern African countries from her base in Botswana, was co-ordinated by the National Council for the Disabled.
Secretary of the National Council for the Disabled, Daniel Savy, said that the training exercise, which is being conducted on a regional level, will prove very beneficial.
He said that on her assessment visit Ms Mharapara had already met with the first team to be trained, comprising mostly teachers as well as health therapists and social workers, and that it is hoped that more will be added when the training starts.