MTT lashes out at poachers
24-July-2004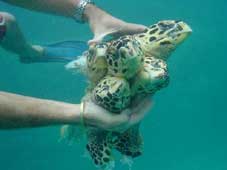 The ministry has branded the tourists' discovery as, "shameful and disgusting."
"Given that there is already in existence legislation to protect such marine lives, it is MTT's desire that the offenders are taken to task as this incident will no doubt tarnish Seychelles' image abroad. In this era where we are putting in a lot of efforts to increase the number of tourist arrivals to Seychelles such brutal acts are unasked for," said the ministry's public relations officer, Wilna Richmond.
The ministry's outburst was highlighted by reference to the SUBIOS (Sub-Indian Ocean Seychelles) festival, the annual celebration of diving, underwater photography and the marine environment.
"With ever-increasing competition worldwide, the authorities are seeking ways of promoting Seychelles as a diving destination. Through activities such as SUBIOS, MTT, STMA and other stakeholders do not only aim to promote marine-based tourism but also to sensitise the populace on the importance and role of the marine environment. Such action (the turtle killing) puts us a step backwards in our efforts."
The theme for this year's SUBIOS, which will be held between 14 and 17 October, is "Save the Turtles."