Thunderbirds are go!
24-July-2004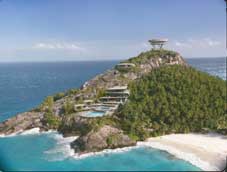 After scouting exotic locations across the globe for the perfect Tracy Island, the film's producers Tim Bevan and Mark Huffam chose the breathtaking location of North Island.
"One of the main characters of the original Thunderbirds series was Tracy Island," said producer Tim Bevan.
Mark Huffam added, "Tracy Island is the most idyllic island imaginable, with crystal clear waters, tropical jungle and mountainous peaks. It is therefore fantastic that we have found all these essential elements here in the Seychelles."
Praslin was another key location in the film, with much of the shooting focused amidst the exotic beauty of the Vallée de Mai UNESCO World Heritage Site.
Zimbabwe Hill provided the exterior for the 'satellite station point' while Anse Lazio beach provided the backdrop for the launch of Thunderbird 2.
To enhance awareness of Seychelles and ensure maximum exposure, the Seychelles Tourist Office in the UK has been setting up promotions with key media outlets such as the popular day time television programme 'This Morning' (which draws audience figures of roughly 2 million per day) and 'Culture', a weekly supplement of The Sunday Times, the UK's biggest selling broadsheet newspaper with a circulation of 1.3 million.
Pre-release screenings have also been organised for leading travel press and principal tour operators including a successful Condé Nast Traveller evening and a Kuoni agent event at Universal Picture's private screening room in Soho.
With an all star international cast that includes Sir Ben Kingsley (Gandhi, Sexy Beast), Anthony Edwards (ER, Top Gun), Bill Paxton (Titanic, Twister), and newcomer Sophia Miles (Nicholas Nickleby, Mansfield Park), Thunderbirds is set to be a box office hit of 2004.