Golf: Andrew's Catering competition-Weidner wins it and equalises course record
24-July-2004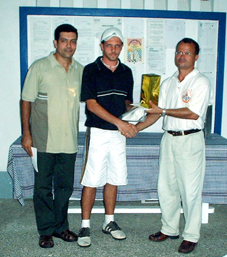 The day began quite gloomy and it scarcely looked like there would be a game at all at the Seychelles Golf Club. However, the weather cleared fairly by around the time for the first tee off at 12.30 p.m.
With a modest field of just 32 golfers, it could have been anyone's game. Joe Morin with 20 points on the front nine looked promising. Andrew Hoareau was always in the reckoning with 21 points.
However, it was young Weidner, now playing off scratch handicap, who maintained a consistency which spelled professionalism. He scored 20 points on both the front and back nines to net 40 points and equal the course record of gross 63.
In the bargain, he won first prize, easily edging out Andrew Hoareau who got only 17 on the back nine, for a total of 38.
Godfrey Andrade scored a brilliant 20 points on the back nine after having also scored 17 on the first nine to take third place with 37 points.
His brother, Joe, who recently started playing competitive golf, clinched the nearest-to-the-pin prize for the 13th hole. The best front nine was won by Joe Morin and the best back nine by Mervyn Esparon.
Ex-club captain Alix Esparon, being the owner of Andrew's Catering, gave away the prizes and promised an even better tournament next year.