Selvin and Percy release Sov Nou Zanfan
24-July-2004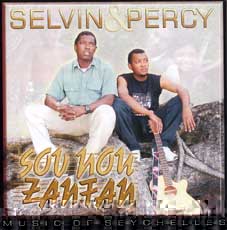 The 10-track album features mostly sega and reggae songs, which pay tribute to our culture as well as Creole music.
The Praslinois brothers, who follow in their father's (Alvin Monnaie) footsteps, say that Sov Nou Zanfan was chosen as the title for the album to send positive messages to the youths here. They say that most young people here have lost moral values and it is the parentsí duty to educate and re-instill those lost values in their children at an early age.
Ankor Pe Viv, Fo Zanmi, Mon'n Ganny Ase, Dan Mon Lavi, Elena are the titles of some of the songs that feature on the new album, which also includes a patriotic song entitled Mon Kriy Seychelles.
The album was recorded at Veuve Studio.
Selvin plays keyboard while Percy plays rhythm and lead guitar. With the help of musicians like Tony Julie (bass) and Mervin Nibourette (drums) and female singer Octavie Prosper, the Creole album will soon reach the shelves of usual music outlets on Mahe, Praslin and La Digue.
All the songs have been written by Selvin and Percy themselves.
The Cesar brothers plan to host a few shows on Mahe to promote their album. The shows will also be an opportunity for the two musicians to get acquainted with their fans on Mahe.
The two Praslinois singers have words of thanks for their families and friends, who they say have given them a lot of support in realizing their dream of releasing this album. They also commend veteran singer Giovanni Ally for being there throughout the production of the album.
S.A.