Mon ava arive makes its debut on the music market
24-July-2004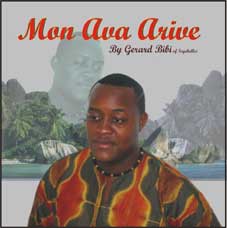 The new album by 28-year-old Gerard Bibi from La Digue is entirely in Creole.
Gerard, who is himself a new face on the music scene, says he is confident people will know him through the songs which he says are rhythmic and will surely leave their mark.
He says that eight of the songs have been written by well known local Seychellois artist Frank Pierre and one, entitled Sa vye kiltir, has been written and sponsored by Gaetan William.
Asked why an all sega album, Gerard, who admits he adores our traditional sega, says he feels more confident and more comfortable to start with singing the sega which belongs to us but he does not hide the fact that he enjoys other music. He says he is already working on many other songs but in different styles and rhythm which he hopes to release in the future.
Gerard, who is a night auditor at Praslin's Archipel Hotel, says he loves music very much but admits he prefers our traditional local tunes to foreign music. Even though he does not play any musical instrument, Gerard is a popular dancer in the La Digue cultural troupe and he is confident of his future as a singer.
For all sega lovers, this new album will not only be a bonus to your collection but also another chance to enjoy the melodious voices of Jahna and Samantha Rose who are providing backing vocals to most of the songs.
Mon ava arive will be on sale at all the usual selling outlets.
M.L