Missionary meets VP
24-July-2004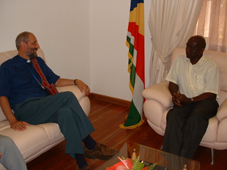 The Reverend Canon Edgar Ruddock, International Advisor of the United Society for the Propagation of the Gospel (USPG), met the Vice-President at State House, where the two men discussed the work of Bishop Chang-Him and the relationship between the Church and the State.
"We spoke of the value of the relationship between the Church and the State, one where the church is able to encourage real growth in community life, to act as a custodian of the moral and ethical issues that govern the life of a nation and to seek to play a part in the life of an emerging and developing nation," said Rev. Ruddock.
Ordained as an Anglican priest 30 year ago Rev. Ruddock has worked predominantly in the UK but also spent nine years in southern Africa and now heads the International Relations Team of the USPG.
The USPG was formed in 1701 and according to Rev. Ruddock, it aims to partner Anglican churches, spiritually, physically and to give a voice against oppression and injustice.
The Reverend, who will be attending celebrations tomorrow to mark the anniversary of Bishop Chang-Him's appointment, said that the USPG, "wanted to mark the occasion by our presence and to honour him for the work he has done here and his contribution to the worldwide Anglican family."