Presidential tour of government offices-Mr Michel at Foreign Affairs and MENR
24-July-2004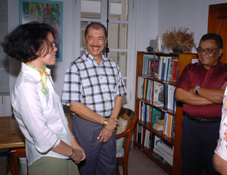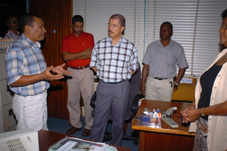 Later in the morning the President returned to Independence House to meet with staff of the Ministry of Environment and Marine Resources (MENR). He did not have time to visit all the offices in Independence House the first time he went to the complex on Tuesday this week. Independence House is the biggest complex of government offices.
President Michel was met on arrival at the Maison Queau de Quinssy building by Foreign Affairs Minister Jeremie Bonnelame, before he was introduced to members of the staff there.
The President was welcomed at the headquarters of MENR, Independence House, by Natural Resources principal secretary Finley Racombo.
On the ground floor of Independence House Mr Michel and his entourage went into the Tourist Information Office and inspected the space nearby where the newly created Investment Bureau will be based.
Friday's visit was the third familiarization tour of government offices by the new President of the Republic.