Old-timers recognised
26-July-2004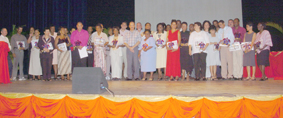 Trophies and certificates were presented by President Michel – who also holds the Finance portfolio – to 39 members of staff who have worked for the government for 25, 30, 35 and 40 years and are currently with the Finance Ministry.
Also attending the ceremony was Administration and Manpower Development Minister Noellie Alexander, the principal secretary of the same ministry, Mohammed Afif, and PS to the Ministry of Finance, Francis Chang-Leng, who himself picked up a 25 years service award.
The glass trophies presented to the veteran staff members were in the shape of a turtle and the MC for the evening drew a comparison to the recipients, saying that, "the trophy represents a tortoise, which lives a long time, moves slowly, slowly, but always gets there in the end."
Opening the awards ceremony Mina Crea, the director general of Administration in the Ministry of Finance, said that the great experience of the recipients amounted to over 1,000 years service to government.
Such experience is important in establishing a solid foundation to our work, she said, calling upon the award recipients to pass on their experience to younger members of staff.
She pointed out that some of those being honoured at the ceremony had worked under the colonial government and each of the three republics.
Following the ceremony the recipients traded memories over sparkling wine and snacks.